Members of various event-planning groups at Drexel announced that Snoop Dogg would be headlining this year's Homecoming Dance Party in a private meeting of student representatives held in the Pearlstein Business Learning Center Jan. 23.
During the announcement it was revealed that Snoop's performance will consist of "a full band with drums, bass, a keyboard, dancers, music videos and costume changes." Wynter Gordon, Pierce Fulton and DJ Serafin will be opening for Snoop Dogg.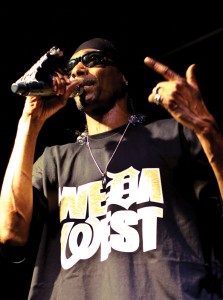 The announcement came from the Drexel Traditions Program as well as planners from the concert and homecoming committees, and it was official around midnight on Monday. Shortly after, students posted the news to Facebook and shared the event invite the Traditions program sent out.
Tickets went on sale on Tuesday at 12 p.m. via DHC12.com and college event-finding website Involvio.com. They were sold out just nine hours later. Traditions Program president and Involvio founder Ari Winkleman described how he dealt with student demand for tickets, which temporarily crashed his website during this period.
"We were blown away by the demand we saw from Drexel on Tuesday. Ticket sales were initially processed through Involvio and fulfilled by our ticketing partner, ShowClix. As soon as Involvio's servers reached capacity, we implemented our backup plan and directed students to ShowClix's cueing system, through which they were able to complete transactions," he explained.
Winkleman was initially worried about student attendance due to the fact that the announcement came less than a week before the concert, which will be held in the Armory Jan. 28 at 8 p.m. While the team of students and staff has been planning the concert since the beginning of the school year, Snoop Dogg's contract wasn't signed until recently, Winkleman said.
"Confirming talent is a very long process," he explained. "We were very lucky to have a team of talented students working on all aspects of event production, promotion and planning."
With the help of volunteers and campus leaders, including Associate Dean for Student Life John Cooke and homecoming committee chair Jenny Kaus, the planning team distributed posters and postcards to residence halls, advertised on Drexel InfoNet, made use of Facebook and Twitter and even wrote the name "Snoop" with several "o's" in spray chalk around campus to advertise the event.
While nonstudents and graduate students could buy tickets at an increased rate, mostly undergraduate students purchased tickets to the concert at a rate of $5 per person. Due to capacity restrictions in the Armory, Winkleman and his team could only sell 3,000 tickets, and none will be offered at the door.
Attendees must present their Drexel ID and a print out of their electronic ticket or a QR code to enter the concert on Saturday. Doors will open at 8 p.m.
"This is going to be one of the most interesting last-minute concerts Drexel has ever seen," Winkleman said.