The Drexel Smart House is serving as a green consultant for the TEDxDrexelU event "The Next X," or the next unknown, Oct. 5 in the Main Auditorium, in order to make it more environmentally friendly.
DSH focused on keeping three main areas of the event green: pre-event planning, food and facilities.
"The partnership between DSH and TEDx has allowed for the kind of crossover and interdisciplinary exploration that really defines DSH," Joe Massott, a pre-junior materials science and engineering major and interim president of DSH, said. "TEDx is a fleeting, single-day event, and its impact comes from words and ideas. The Smart House is a sturdy relic of an outdated age that is being prepped to stand for years against an uncertain future."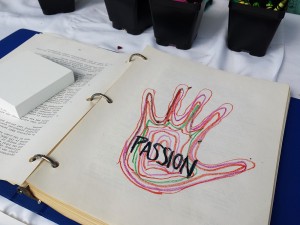 To make the event greener, DSH recommended serving locally sourced food, using biodegradable silverware, offering edible plates and glassware, encouraging attendees to travel by bus or carpool, and using natural lighting and ventilation, among other things.
When it came time to plan a pre-event for TEDxDrexelU 2013, TEDx co-organizer Mohamed Zerban, a sophomore mechanical engineering major, and fellow DSH member Collin Cavote, a junior custom major in the honors college, remained true to the DSH commitment and vision, "Smart House > Smart Block > Smart Community."
While simply spending an afternoon together one day, the duo generated, "Take a Hand in Education." Calling on people of all ages, the pre-event project raises awareness for the Philadelphia public school system by having participants trace their hands on recycled paper at GreenFest, the largest environmental festival in the city.
Using over 400 contributors' hands, the members of DSH uphold their motto and unite the larger community with TEDxDrexelU as they plan to create a photo backdrop for the event using the drawings collected.
The recycled hands are not the only environmentally aware element of this weekend's event. Perhaps the most remarkable and notable component of TEDxDrexelU is that almost every aspect is green and can act as a model for future events. As the students began planning for this event in July, the DSH team wrote a template that includes everything from locally grown food and carpool transportation options to recommendations for vendors.
"What I want to teach the people is the sustainable event planning method. I want other organizations to take this template and work with DSH to host sustainable events," Zerban said.
The essence of DSH's existence meshes with this year's TEDxDrexelU. The DSH is a student organization that funds student research through grants for students who look for a problem and then a way to solve it.
Cavote added, "Projects like this, TEDx, are valuable ways for students to gain hands-on experiences."
"The Next X" will feature several speakers, including founder and CEO of Encore.org Marc Freedman; Philadelphia-based journalist, travel writer and author Thom Nickels; and astronaut and College of Engineering alumnus Paul Richards, just to name a few who will each present a certain "X" — a certain unknown — that they see in their own field.
Cavote and Zerban both stressed that everyone needs to be involved in the community, and that community members need to think about how they live, live a sustainable lifestyle, and be conscious about energy usage and where food comes from.
It is in DSH's threefold mission to convert an old Victorian home into a "living laboratory" to empower students to bring their innovation into the world and to generate an interest in "multidisciplinary practices and urban environment" within academia so that the motto "Smart House > Smart Block > Smart Community" comes to life.