Drexel's Sigma Phi Epsilon chapter raised over $55,000 for children's cancer research, partnering with the St. Baldrick's Foundation for their annual head-shaving event April 25. Over 150 people lined up in Drexel's Recreation Center to shave their heads and enjoy the event's music, inflatable carnival games and food.
The St. Baldrick's Foundation is a nonprofit organization renowned for spreading awareness of childhood cancer and raising money for research. As part of its fundraising, the foundation assists various groups in holding head-shaving events, which have cumulatively helped raise over $118 million for research.
Originally scheduled for March 14, the event was pushed back due to the death of Phi Mu sister Stephanie Ross. Prior to her death, Ross was very close with the fraternity and had even pledged to donate 8 inches of her hair to make wigs for child cancer victims and help raise money for the event.
Ross' fundraising account alone raised over $5,000 for the cause. In Ross' memory, SigEp member and close friend of Ross Daniel Szwerc, a film and video major, entered a "Bold IS…" competition that Lexus, one of this year's St. Baldrick's sponsors, was holding.
"You had to make about a 10-20 second video … basically say[ing] what you would put the money toward and why it was bold to shave your head," Sean Soboloski, chairman of the head-shaving event and mechanical engineering major, said, explaining the process his fraternity brother went through.
As a result of being one of the competition's 10 winners, Szwerc won $2,500, which he donated to Ross' memorial fund.
In addition to donating to Ross' memorial fund, over the last few months SigEp members have been personally raising money by reaching out to their co-workers, friends and families using social media and even panhandling for funds to show their devotion to the cause.
"Pharmaceutical companies need organizations like St. Baldrick's to raise money for breakthroughs," Kyle FitzPatrick, SigEp "shavee" and a mechanical engineering pre-junior, explained.
Members of the foundation along with unaffiliated students and participating members of the community lined up single-file to shave their heads or chop their locks for the charity.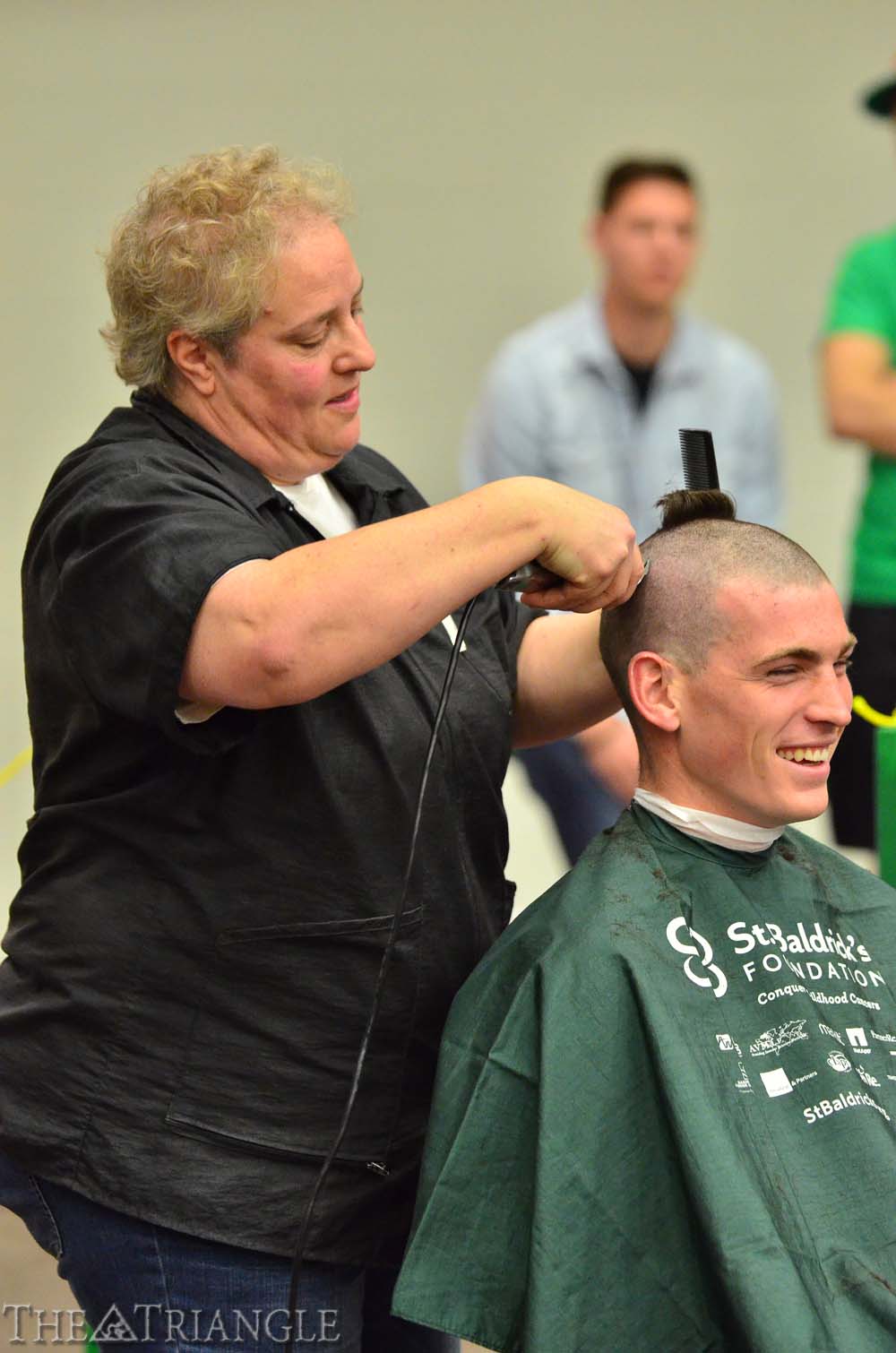 In addition to watching participants say goodbye to their hair, visitors could also buy baked goods and other foods from vendors like the Entrepreneurship of the Living-Learning Community, the profits of which also went to St. Baldrick's.
"I'm sure many members have family members or know of those who have been affected by cancer, pediatric or not," Justin San Juan, SigEp member, St. Baldrick's shave participant and biomedical engineering major, said, explaining another motivation for SigEp's ardent fundraising.
Soboloski, a fourth-year "shavee" explains that working with St. Baldrick's is more than just an annual event for SigEp. "It's something that's very engrained within our chapter. It's a part of being a member."
"Two of our members are actually pediatric cancer survivors," Soboloski continued.
David Zilly, a business and engineering major, is one such member who has been in remission for 14 years. He says knowing what a child with cancer goes through motivates him to raise money for the cause. It is his third time shaving his head with his fraternity.
"I was diagnosed when I was seven years old," Zilly said, elucidating his personal connection to the charity. "I had Ewing's sarcoma. It's a rare type of bone cancer which I had in my right chest wall."
Zilly said he made an instant personal connection with SigEp after finding out they were involved with the St. Baldrick's Foundation.
"I talk to the new members every year about my experience. Kind of get them hyped up about raising money for kids that were like me," Zilly said.
"I actually had no idea that Zilly was a cancer survivor until a few weeks after I joined [SigEp]," San Juan said. "He's definitely an inspiration as he's living proof that cancer can be beaten, and having him in SigEp motivates us to keep pushing past our yearly goals."