Film and video production major Kyle Trobman and business and entertainment & arts management major Analis Barrood are creating a film on child abductions for their senior project. The film aims to raise awareness of kidnapping, and the pair has plans to enter the film in a variety of film festivals.
"Clouded" tells the story of Rae, an 8-year-old girl abducted by Ann, a woman who suffers from far too much tragedy in her life. In the aftermath of the kidnapping, Rae and her captor both seek comfort in Ann's new boyfriend, Dave. The plot specifically focuses on the relationship between Rae and Dave, the psychological effects of the trauma on the child, and the trust she must rebuild with a virtual stranger.
Although Trobman's story is fiction, the severity of child abductions is real. According to the National Center for Missing and Exploited Children and the United States Department of Justice, nearly 800,000 children are reported missing each year, an average of 2,185 children per day. Trobman said he hopes that his film will be yet another form of media that will raise awareness of the severity of the problem.
In order to portray the austerity of child abductions most accurately, Trobman has been engaging in a fair amount of research. Independently, Trobman has explored kidnapping statistics and motives of abductors. He has also been in contact with a psychologist to better understand the mental development of children and the thought process of child predators.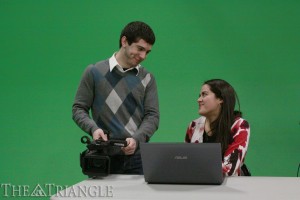 "I wanted to understand the thought process of an 8-year-old girl. At age 8, children are pretty smart, and they are able to differentiate between reality [and] dreams. Think of when we were 8; we are starting to understand the concept of life, in a way. But when a situation like this happens, it postpones that type of development," Trobman said.
Trobman, who wanted a powerful title that especially reflected the perspective of the child, thus decided upon the title "Clouded," as it accurately describes the child's hazy mindset. The film is meant to make an impression on a younger audience that may not necessarily have the problem of child abductions at the forefront of their thoughts. Trobman said he understands that the film likely will not inspire a burst of activism to find missing children. However, he hopes to make a difference to "at least a few people" in his audience.
While the writing of the script will continue to be an ongoing process, production has only just begun. Trobman and Barrood are seeking contracts for casting and locations, and they plan to begin shooting in March. Additionally, as producer, Barrood is responsible for funding and marketing and is currently seeking sponsorships through grants, nonprofit organizations and large corporations.
"I decided to just 'go big or go home,'" Barrood said. She is also working with Erin Jackson, production coordinator of the Greater Philadelphia Film Office. GPFO is a member of the Association of Film Commissions International, and with Jackson's assistance, Trobman and Barrood will produce a high-quality film worthy of festival entry.
The two are very proud of the project. Barrood described herself as lucky to showcase her Drexel education through the production of the film and anticipates a large audience. With a website and trailer forthcoming, aside from entering the finished product to film festivals, Barrood plans to hold exclusive screenings for major sponsors and possibly smaller nonprofits dedicated to raising awareness on kidnapping. Drexel students will be notified about the project via mass email and will be able to view the film in the senior showcase.