Drexel senior Leonard Borriello will search for romance on the second season of NBC's reality dating show "Love in the Wild," which premieres June 5.
Borriello, a double major in marketing and legal studies with a minor in paralegal, took the winter term off to film the adventure dating show in the southwestern Dominican Republic.
Though he did not watch the first season of the show before signing up, Borriello said he wanted to try "Love in the Wild" because of the once-in-a-lifetime opportunities it would bring.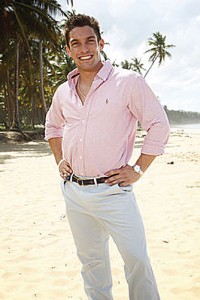 "I am an adventure seeker, love the beach, love to party and have fun, and love to meet people. … I also like getting paid to do all of that stuff," he said.
The show, which is a mixture of reality television programs like 'Survivor,' 'The Amazing Race' and 'The Bachelor,' features men and women who are paired into couples to compete in challenges that test their compatibility as well as their own abilities. The couple that wins the episode challenge is rewarded and remains together, while the losers have to choose their partners for the next episode's challenge, with the two remaining unmatched partners voted off the show.
Last season featured 10 men and 10 women, but the upcoming season will feature seven men and seven women as well as seven surprise men to pair up with the original couples to work together as trios. Borriello is one of those surprise men.
"We were not told who was who; they just … casted the show and organized the groups after we had been selected," he said.
For Borriello, another surprise was meeting the host of "Love in the Wild," Jenny McCarthy.
"I didn't get too much contact with her, though I was a little disappointed; she wasn't as striking in real life as I had imagined. Fantasy: crushed," he wrote in an email.
Borriello first became involved with "Love in the Wild" thanks to a woman he met last year at a party who sent him a Facebook message.
"She had gone to see a friend at [the restaurant] 'a. kitchen' in Rittenhouse Square, and while she was at the bar waiting, she bumped into someone who she became fast friends with. It turned out to be an NBC executive in town doing business for the show. They asked if she knew anyone who fit the profile of 25-35 age, good looking, charismatic, and on a path to a career," he said.
Borriello will be working at JPMorgan Chase in Wilmington, Del. after graduating this term.
The woman thought of Borriello and asked him for pictures, and after he sent them to her, he got a call from executives who wanted to fly him to California. After a couple rounds of interviews, he was told that he had been casted.
According to his profile on an NBC-issued press release, Borriello, 27, "loves the ladies — and they love his six-pack and contagious smile. He takes pride in his chiseled body, but there is more to this Italian financial analyst than just his good looks."
The press release also states that "he's looking for a woman that can keep up with him and is excited about a trip around the world and the possibility of finding a new love along the journey."
Borriello told the Philadelphia Daily News that he had previously gone to the final audition round for casting of MTV's "The Real World."
Borriello was not the only Philadelphia local to appear on the show. Manayunk's Jenny Blatt, 27, works at a Center City advertising agency and was inspired to go on the show after walking in on her boyfriend of five years with another woman.
Whatever the outcome of the show, Borriello said he plans to watch the premiere episode, though he's not yet sure where.
"I may be meeting up with Jenny in Manayunk, or my buddies here might throw a party," he said. "I know we will probably be having a cast reunion sometime this summer, probably in Las Vegas."
Borriello and the rest of the "Love in the Wild" cast can be seen battling for fame and love Tuesdays at 9 p.m. EDT.