Senior elementary education major Cloe Lacombe-Bar has become the first student to independently develop a mobile iPod tour for an exhibit at Philadelphia's National Constitution Center.
The iPod tour complements The 1968 Exhibit, an exhibit originally developed by the Minnesota History Center. The Exhibit highlights events of "the year that rocked America," from the assassinations of Martin Luther King Jr. and Robert F. Kennedy to the Vietnam War, the Civil Rights Movement, and the cultural impacts of Jimi Hendrix and Janis Joplin. It is organized into 12 sections, each corresponding to a month of the year.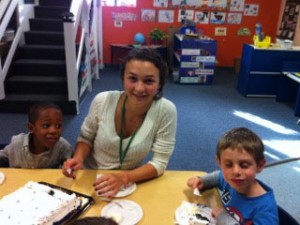 The National Constitution Center provided Lacombe-Bar with an audio script for the tour, for which she created 45-second to six-minute video "stops" to go along with the narration.
"I created about 20 stops for each event that was present in the exhibit, in which a narrator talks about the event. I basically edited the audio and took pictures and graphics to edit them all into a video," Lacombe-Bar said.
Lacombe-Bar found and compiled all images for the videos herself, which she admits was the hardest part.
"I was given some pictures from the original tour, but a lot were bad quality and I didn't have every stop, so I went on Wikimedia Commons, Library of Congress and other national archives to find images and make a story out of them."
She added, "It sounds like such a simple thing to do — just, Google this-or-that, but it took so much time to be able to find relevant pictures that I had the right to use. I didn't think of it at first, but then I realized that everything is copyrighted."
In developing the tour, Lacombe-Bar also practiced some coding.
"[Before this] I did not know how to code at all. Once I was done with all of the videos, my co-worker showed me not how to code the entire application but how to put my stops into it, titles and everything, to make sure it worked," she said.
The tour is compatible with an iPod Touch or an iPhone. Visitors can either rent an iPod from the museum or install the free app on their own device. Once the app is installed, users may purchase the tour for 99 cents.
Prior to creating the iPod tour, the only experience that Lacombe-Bar had with media programs came from her Multimedia in Instructional Design course with Drexel professor Cory Schmitt.
The course is designed for education majors and focuses on how to integrate technology and multimedia into lesson plans. During the class, Schmitt requires students to develop a project using audio, video, animation, text and still graphics.
After witnessing Lacombe-Bar's performance in his class, Schmitt, who has been developing tours for the National Constitution Center for seven years, offered her the job, giving her complete control of the project.
"I knew that she had the background, the training and the skills to complete it because she took my course, and she seemed interested in learning more about using multimedia in the class setting, so I asked her, and she's been the first in six or seven years to say yes," Schmitt said.
Schmitt regularly asks students who excel in his classes to help him develop tours, and while he admitted that the class this past winter term has been one of his best, Lacombe-Bar was the only student asked to help develop the project.
"What impressed me about Cloe is whenever I asked if anyone would have any questions and concerns, and no one would answer, I'd ask if anyone had any joys, and she'd always raise her hand and say, 'I really like this stuff,' so that stuck out to me," Schmitt said.
Lacombe-Bar worked on the project for about nine hours per week and received standard student wages.
"This is the first [tour] that we were able to produce where we didn't feel incredibly stressed and up against a deadline. We knew when she was taking it over that this was her primary project, so we knew we were way ahead of the game, more so than we ever have been," Schmitt said.
According to Schmitt, the National Constitution Center typically opens the tours to the press before they are opened to the public and that more press attended this tour than any other.
"This is the first time that the press actually expressed an interest in taking the tour. So there were far more press that took this tour than others, and overwhelmingly in the end, the press liked this tour, which I think really enhanced this exhibit," Schmitt said.
Lacombe-Bar, who is a native of France and has lived in India and Senegal, said she ultimately plans to become an international teacher. She plans to continue to use technology to complement her teaching.
Although she admitted that this type of technology shouldn't be used all the time, she thinks that "technology [like this] can be really helpful for differentiating instruction and accommodating students with different needs. Also, I know that students love technology and how it's used, so it can be fun and motivating for them."
The National Constitution Center is located in Philadelphia's Old City neighborhood at 525 Arch St. The 1968 Exhibit will be open until Sept. 2.