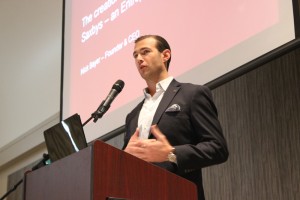 Saxbys Coffee is partnering with Drexel University to open an experiential learning cafe to be entirely run by Drexel entrepreneurial students. The new cafe will be located at 64 N. 34th St. and will be operated and managed entirely by Drexel students on their co-ops. The first manager of this new cafe will be pre-junior Meghan Regan, who "is spending her co-op hiring and developing the team," Saxbys CEO Nick Bayer said.
The goal of the new cafe is to create a place where Drexel entrepreneurial students can really join in an amazing, hands-on learning opportunity. "Saxbys Drexel will be entirely run by Drexel students, which will really allow the Drexel community to take ownership of the cafe," Bayer said.
Saxbys was founded on the idea of franchising "custom-designed, authentic neighborhood cafes" which would partner with "entrepreneurial franchisees to operate locally relevant, community-oriented cafes," Bayer added. The new Saxbys Drexel is consistent with this mission.
Because of Drexel student management, the cafe really will be a place Drexel students and faculty can call their own. As for custom-designing and making the cafe locally-relevant, Bayer said that Drexel has been a big help with the location for the cafe and its design, and has been including "reclaimed … items from the former University City High School" which Drexel now owns. The cafe will be decorated with Drexel's blue and gold colors and will be very school-spirit oriented. Also, the central location on campus and especially the proximity to the freshman dorms will be a positive aspect of the cafe for students.
This partnership is unique in that Saxbys — a large and well-known company with its roots in Philly — is putting the affairs of a whole location in the hands of students. Bayer explained in an interview how he found so much faith to chase this bold partnership. Three years ago, after founding Saxbys, Bayer began teaching entrepreneurship classes at universities, including Drexel, Temple University and Cornell University. In that time, he "realized that there were so many entrepreneurial students that could absolutely run a successful cafe." Bayer came to Drexel and found that the leaders of the University were doing a "tremendous job teaching and supporting entrepreneurship."
During his time at Drexel, Bayer felt that entrepreneurship was really expanding throughout the University, especially with the creation of the Baiada Institute for entrepreneurship and the start of the Close School of Entrepreneurship. However, Bayer "felt the one missing component was experiential learning — an opportunity for students to run a real business and ultimately put what they've learned in the classroom into practice."  It was this lack of experiential learning that got Bayer intrigued with Drexel and the possibility of opening a Saxbys cafe with Drexel students. It was this intrigue that led to the creation of Saxbys Drexel.
Bayer is very excited about the project. "We're confident that this experiential learning center will turn Drexel students into bona fide entrepreneurs. … We want to give the Drexel community a cafe that is 'their' cafe — we hope it will be a place to gather, enjoy drinks and food and help launch the next generation of influential Drexel entrepreneurs," Bayer said.
Saxbys Drexel is not the only new location being opened by the Saxbys franchise right now. Saxbys is in a period of aggressive expansion, and has just opened a cafe in Peddler's Village right outside of the city. Saxbys is a Philadelphia company and wants to be "known as an iconic Philly brand" according to Bayer. Other locations being opened soon include a cafe in Washington Square West and the rehabilitation of the 30th Street Station and Penn cafes.