A business founded by a Drexel alumnus hopes to improve the quality of life in Guatemala. With profits from the production, manufacture and sales of sandals, Ix Style Inc. aims to provide clean drinking water to many impoverished children.
Drexel alumnus John Kennedy and his sister Francesca were concerned by the poverty they witnessed while visiting Guatemala. Both siblings were shocked by the abject realities that many Guatemalan children face. They were specifically concerned about water quality, especially around the Lake Atitlan region. The children of the community are forced to drink and bathe in the toxic water surrounding the lake, which has not only elicited several health concerns but also negatively affected local tourism and commerce.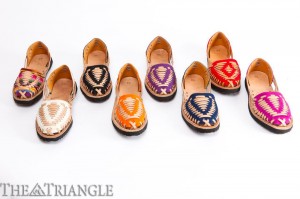 "There wasn't any real theatrical decision regarding a moral compass," John Kennedy said.
This concern, coupled with many interviews with local officials and small-business leaders, brought the idea to fruition. Soon after, the brother-sister team started Ix (pronounced "eeks") Style. The name stems from the Mayan word for jaguar and represents strength, energy and vitality. They established the firm to operate via electronic commerce, with the hopes to eventually become fair trade, according to Kennedy. Their business strategy hopes not only to improve the lives of many Guatemalans but also to give many of the undermarketed artisans a broader market for their goods.
The firm currently sells sandals at a price of $89 per pair. The shoes are inspired by the style of Mayan textiles, and each sandal is woven in a distinct pattern called huarache. Fifteen percent of profits from each purchase are donated to the nonprofit organization named charity: water. Currently the sandals are sold in Brazil, Malaysia, New York City and Philadelphia and can be purchased through their website.
The company is also in the process of forging close contacts with other businesses with similar strategies. While working closely with Blake Mycosie, president of TOMS Shoes, the brother-sister duo hopes to replicate what the TOMS brand has done for charity entrepreneurship in Guatemala.
Ix Style Inc. is currently hiring undergraduates of any major seeking an internship. "We would absolutely encourage any Drexel student to submit an application and cover letter," John Kennedy said. As a graduate from Drexel, Kennedy believes Drexel students are prepared for the workplace.
Interested students should note that accepted interns would be based primarily in New York. There would also be substantial opportunities to travel to Guatemala to visit the various community leaders, diplomats and bureaucrats. Students who are interested in working in the nonprofit sector are encouraged to send a cover letter and resume to [email protected]. Spanish fluency is not required.