Daniel J. O'Meara of Bisbee, Ariz., became a notable Drexel alumnus not just because he's the first person to earn a doctorate at the University's Sacramento Center for Graduate Studies but also because of his regular commute to the campus, which totaled nearly 2,000 miles round trip.
O'Meara, 56, was able to take most of the courses for his doctorate in educational leadership online. He had to commute to Sacramento, Calif., once every five weeks to attend an all-day Saturday class. The trip took eight hours of travel time one way. This included a flight to Sacramento from Tucson, Ariz., which is an 89-mile drive from Bisbee.
O'Meara balanced his studies with a full-time job at Cochise College as director of the school's TRiO program, a series of federally funded services to help disadvantaged individuals through college. Although he described the commute in an email as "a true exercise in persistence," he wrote about how much he enjoyed the scenic drive from his home to the airport.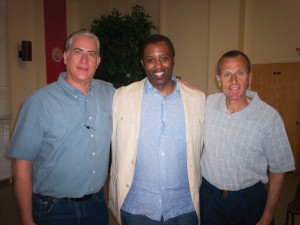 "As I wind my way toward Highway 80, the main [thruway] that links Bisbee with the rest of the world, I get a chance to also travel through history," O'Meara wrote. "As I travel along the road, I pass geological wonders that formed the Mule Mountains, where in 1877 Army scouts were dispatched in order to seek out renegade Apaches. I drive through Tombstone, St. David [and] Benson; cross the San Pedro River; and travel through a stretch of high desert covered in ocotillo, creosote bush and mesquite — all typical flora of the Chihuahua Desert region."
O'Meara was accepted to doctoral programs at four different schools. Despite the commute to Sacramento, he found Drexel far more impressive than the other three schools.
One of the key factors in his decision to enroll there was the dedication and personalized attention that the faculty and staff showed him throughout the admission process. He acknowledged several people who helped him on a personal level, including Carl "Tobey" Oxholm III, former dean of the Sacramento campus and current president of Arcadia University in Glenside, Pa.
"The human touch at Drexel was evident to me to a degree that was not exhibited by the other institutions that had admitted me into their doctorate programs," O'Meara wrote.
Another deciding factor for O'Meara was Drexel's educational approach.
"The cohort-based, transcontinental model differed in scope to the other programs that I had expressed interest in," O'Meara wrote. "The emphasis that the five keystones placed on leading organizations through community action, gaining applicable understanding of technological advancements, proactive change agency, and scholarly research on a part-time basis was ideal for me. The blended format allowed me to continue my work at Cochise College while sharing in the wealth of knowledge that my cohort had to offer during our executive sessions."
O'Meara, a native of Venezuela, took a long, challenging path to reach his current job and his Drexel education. He lived in Israel and was drafted into the country's military in the mid-70s. He moved to the U.S. in 1992 and settled with relatives in Arizona.
He wanted to attend college and had to overcome several socioeconomic obstacles to get there. He earned a bachelor's degree in Latin American studies from the University of Arizona and a master's degree in educational leadership from Northern Arizona University. Before accepting his current job, he worked as a courtroom interpreter and a high school history teacher.
O'Meara wanted to earn his doctorate so that he could improve the TRiO program at Cochise. He described how all of his life experiences helped him to optimize his leadership skills for this goal.
"I have overcome logistical, operational, strategic and economic obstacles in order to learn current leadership practices through my degree attainment at Drexel," O'Meara wrote. "I have learned administrative practices, language and organizational development theories, which have allowed me to be more participatory in my institution's strategic planning and as such to be a more contributory member of the college's mission. I hope that the lessons that I learned over the course of the last three years will be imparted to my students and to anyone else interested in being a proactive member of the community that has done so much for me."
The program O'Meara completed is currently the only doctoral program offered at the Sacramento campus. The campus also offers master's programs in business administration, finance, higher education, human resource development and public health. The MBA program in health care administration will be a new addition to the campus this fall. Visit http://sacramento.drexel.edu for more information.