David Forney, a biomedical engineering major and member of Drexel's ROTC program, represented Drexel at the U.S. Army's Leader Development and Assessment Course and was awarded the Association of the United States Army Leadership Excellence Award this July.
As a member of the Drexel Army ROTC program, Forney was required to complete an evaluation through the LDAC, which occurs between the cadets' junior and senior years.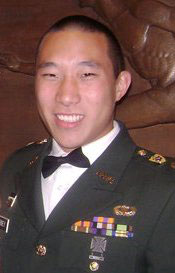 From June 13 to July 11, Forney joined cadets from around the country as the only one from Drexel, at the Joint Base Lewis-McChord in Washington state for an intensive 29-day evaluation of the cadets' leadership aptitude and common soldier skills.
"For a lot of cadets, this was the first time that they were away from home for military training," Forney said. "I saw a lot of growth in my peers between day one and day 29 … We became a family for those 29 days."
The course is designed to evaluate the cadets on individual tasks including physical fitness and land navigation. The leadership capabilities of each cadet are evaluated in six different scenarios throughout the course, in which they take various positions of responsibility within their squad. Other events include weapons familiarization, CBRN (chemical, biological, radiological, and nuclear) training, cultural awareness training, first-aid qualification, a confidence course, water confidence course, and rappelling.
"The most difficult part was doing the peer evaluations," Forney said. "I liked everyone in my squad and had to really use the mindset of, 'Who would I trust with the life of my son or daughter?' to evaluate them and remove emotions entirely."
The cadets' scores from LDAC were combined with their grade point averages, physical fitness scores, leadership experience scores and extracurricular activities scores to rank each cadet in the nation. This national ranking is used to assess the cadets into the 16 different branches in the United States Army.
Forney was part of the second regiment, each of which has two companies, which consist of 240 cadets. Each company has five platoons of 48 cadets. Finally, each platoon has four squads, which contain 12 cadets.
Forney was notified a few days before his graduation from LDAC that he had won the Leadership Excellence Award for his regiment, meaning he had ranked first out of the 480 cadets in his regiment.
"Part of what allowed me to excel at camp was the tremendous camaraderie I had within my squad," Forney said. "Pretty soon we forgot about the evaluations and we were doing our best for each other. I found myself pulling double, even triple guard shifts just to spend time with the cadets in my squad."
Forney has been a member of Drexel's ROTC program since his freshman year. Sergeant First Class Terris Kolmorgan, a training noncommissioned officer and one of Forney's instructors for level III of the Military Science and Leadership program, worked directly with Forney over the past year, including preparing for the Ranger Challenge competition at Fort Dix, N.J., last fall.
"All in all he's a superb," Kolmorgan said. "If he screws up, he takes it for what it is, fixes the problem and doesn't do it again. It'll be really good for the cadets and for him that he came in first, for them to have an active and excited participant as a superior."
Kolmorgan didn't forget that Forney was largely responsible for the success of another Drexel cadet at the LDACs.
"A cadet was falling behind, and he volunteered to help him out," Kolmorgan said. "The cadet passed LDAC because of it. I had originally recommended that the cadet not even go but he passed because of the mentorship from Forney."
For his final year at Drexel, Forney was selected to be Cadet Battalion S-3, which means he will be responsible for operations and training for more than 80 cadets.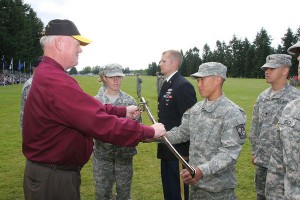 After graduating from Drexel this coming spring, Forney plans on commissioning as a second lieutenant and spending his first three years in the army as an engineer and then transferring over to military intelligence.
"I plan to go active duty and go career military, which is typically 20 years," Forney said.
In addition to winning the Leadership Excellence Award, Forney was given the Bank of America Coin, COMTek Award and Army Saber for finishing first in his regiment.
"I just think me winning the award is a reflection of the strong cadre and cadet corps we have at Drexel," Forney said.
Lieutenant Colonel Maura A. Gillen, a professor of military science at Drexel, is one of the members of the cadre pushing to have Forney recognized for his award at a basketball game this fall.
"I've been incredibly impressed by Cadet Forney's understanding of military tactics, but even more impressed by his leadership abilities," Gillen said. "He truly understands what we're teaching in ROTC. He's leading by example, creating a positive environment, preparing himself and developing others, in particular."
The Army ROTC program is a leadership program that is implemented in conjunction with the standard college curriculum. It provides individuals with the tools, training and experience necessary to become Officers in the United States Army.
"He's always impressed me as tactically sound," Gillen said. "He is an incredibly collaborative leader and has an incredible presence. We're just hoping that he can get recognized by the school for it."
Forney plans to return to graduate school for a master's degree in business administration and a doctorate in strategy or operations management.