There is no amount of stress that the warm, wet nose of an adorable puppy can't banish, or at least that's the theory behind Puppy Pawlooza held Dec. 4 in Gerri C. LeBow Hall. The event was hosted by the Campus Activities Board; Active Minds at Drexel University, a student run peer-to-peer mental health advocacy and awareness group; and the LeBow College of Business.
For students, finals week can sometimes be a crushing time of mental stress, with sleepless nights spent cramming and studying, interrupted only when a midnight deadline seemingly approaches out of nowhere.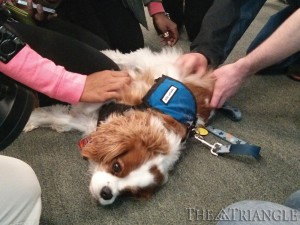 That's why these dogs — despite the event's name, they weren't all puppies — lent their paws to Drexel students, attempting to take minds off discussion board posts and focus them on belly rubs.
"They ought to be here between exams so you can just stop between tests and get your dog fix," Patty Derrick, a handler volunteer who showed up with her daughter's dog, a four-year-old Australian shepherd named Cooper, said.
Therapy Dogs International brought the pups for the pre-finals week event. The New Jersey-based volunteer organization was founded in 1976 and provides over 24,000 trained dog-and-handler therapy teams in the United States and Canada, often to nursing homes and hospitals. Each dog is directly paired to its handler and given training with how to work in unusual environments.
"He was the worst puppy," Cooper's other handler, Ellen McGregregor, said. "Such a naughty troublemaking puppy, but now he's such a good boy."
Cooper usually spends his time as a working dog on a horse farm.
"I think Cooper is getting the stress relief right now," McGregregor said as Cooper lay lazily on one side, getting belly rubs from a circle of fawning students. "It's supposed to be the other way. He's such a ham."
Ten dog-and–handler teams turned out for the event, which had a line stretching around the second-floor atrium of Gerri C. LeBow Hall.
"We had such great feedback," Kevin Montgomery, associate director of college operations at the LeBow College of Business, said. "Thirty dog owners contacted us, so we actually had to turn people away."
Montgomery, who had his therapy dog at home, said that the reaction to the event and the turnout far exceeded what the College hoped for.
"I want to say how happy the University is about this," Montgomery said about the event. "I look forward to going [to] it next year. Maybe even twice a year to be fair to students on co-op."
CAB was also pleased with the turnout to the event.
"We originally thought that maybe 200 people would come out," Jillian Maggio, a junior entertainment and arts management major and CAB's director of special events, said. "But as of this morning we had 611 likes on Facebook, and we realized that maybe we would have a few more."
The total number of students that attended the event was about 700, Tiffany Liao of CAB said. A drawing class also attended the event and made sketches of the dogs.
Other universities also use friendly dogs to help students deal with stress. Some of the dogs at Drexel have recently attended similar events at area colleges. The University of Pittsburgh even has Therapy Dog Tuesdays, a weekly visit program with the motto "Sit. Stay. Snuggle!"
"I saw on the news that a few campuses were doing this," Maggio said. "When I became director, I told people that my first order of business was to have a Drexel puppy room."
During the event, one dog named Pollo had a habit of licking students when they sat down next to him for a hug.
"He's a kisser and he's quick," handler Chris Handley said as Pollo darted to lick another student in the face. "Thirteen months ago he was rescued from a euthanasia clinic. He's been a therapy dog for just two months."
Pollo came from All 4 Paws Rescue Inc., a no-kill animal rescue center in Chester Springs, Pa.
"I kind of forgot how stressful college can be," Handley said, speaking about the event. "And this is a great way to forget about all that."
Soft fur and wee pink tongues weren't the only things the event offered to stressed-out students. Representatives and literature from the Drexel Peer Counseling Helpline, the Counseling Center and Active Minds were on hand to provide tips and tricks for slogging through 10-page papers while staying healthy.
"Bringing therapy dogs is all about relieving stress and making finals a little easier," Megan Hartz, a senior psychology major and the president of Active Minds, said. "But we also brought human treats."
In addition to the small bags of Scooby Snacks graham crackers that Active Minds was distributing, students also received a list of tips and tricks to have a less stressful finals week.
Physical tips like exercising, eating a balanced diet and limiting the intake of alcohol during finals were complemented by tips for the mind like taking a deep breath and counting to 10, venting to someone, and trying to do your best during finals instead of trying to be perfect.
Active Minds also encouraged students to reach out to the organization via Facebook or at [email protected] if they are looking for more information about dealing with stress.