Professor Michael S. Weingarten, chief of vascular surgery and director of the wound healing program at Drexel University College of Medicine, returned Aug. 6 from his third volunteer trip as a vascular surgeon in the Combat Casualty Program.
The program, which began five years ago, is sponsored by the Society of Vascular Surgery and the American Red Cross. Seventy-six SVS members have volunteered their time in the program, serving two-week shifts at the Landstuhl Regional Medical Center in Germany.
The Landstuhl hospital is a level-one trauma center and the biggest American hospital outside the United States. Weingarten volunteered here from July 23 until Aug. 6, operating on patients fresh from the battlegrounds of the Middle East.
"The Society for Vascular Surgery put out a call, going back several years ago, for people to volunteer and help care for casualties from Iraq and now mostly Afghanistan," Weingarten said.
Wounded soldiers are first given damage control surgery in emergency surgical hospitals near war zones. They are then transported by Critical Care Air Transport flights to the LRMC in Germany, where the volunteers treat them and perform operations.
"We operate on them several times doing a variety of things, and then they're flown back to the United States for further care," Weingarten said.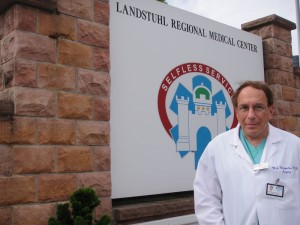 He and his fellow SVS members leave their various practices and teaching responsibilities to complete this volunteer program overseas.
"This was my third tour," Weingarten said. "There's a need for my specialty. I have certain talents. I have training that will help, and I think it's a very good way to pay back."
"These young men and women are out there volunteering to save our country, and they're putting their lives on the line, and I think we owe it to them to help them out," he added.
Weingarten has taken each of his trips with his wife, Carol Weingarten, an associate professor of nursing at Villanova University.Carol Weingarten spent her three trips as a civilian volunteer working with ambulatory ill and wounded troops through the Chaplains' Wounded Warrior Ministry projects.
On this trip she brought cards made by nursing students at Villanova that expressed sentiments of support and gratitude for the wounded soldiers.
She has also interviewed military and civilian nurses and nurse leaders of the LRMC for several publications and presentations.