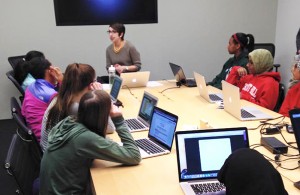 Frank Lee is not unfamiliar with the idea of using games and technology to inspire. As the mastermind behind the massive games of Tetris and Pong played on the Cira Center during Philly Tech Week, he bridged the gap between arts and sciences. His recent work seeks to bridge another, — bringing girls into the tech and gaming industries. Collaborating with local organization TechGirlz, Lee and current Drexel students Gabby Getz and Rachel Stine tested the first of a series of workshops aiming to engage young women in a field that sorely needs them.
"Something that I've been deeply interested in is trying to get more women into the game industry. The game industry, in being part of the tech industry, has a dearth of women within their engineering and technical staff," Lee said. He cited both his own experiences and recent studies as indicators of this gender gap, the most alarming of which in the form of a 2014 company survey for Twitter, which showed only 10 percent of the technical staff being women.
"It's an interesting dichotomy really, since there are actually more women going to college than men right now, yet they are still so underrepresented in the [science, technology, engineering and mathematics] field[s]," Lee said. "So I'm getting a lot of anecdotal information and trying to figure out where that starts."
From what he heard from many different sources including the TechGirlz, Lee believes that girls start being pushed away from the STEM field both explicitly and implicitly sometime in middle school. "So somewhere along the line, girls seem to get this incorrect idea that science or technology isn't for them. So one thing that I'm trying to do is to try and address that early enough where I feel like we could try and have an effect," he continued.
TechGirlz's efforts come in the form of a series of workshops — most recently Game Design I and II , their joint project with Lee and Drexel's Entrepeneurial Game Studio— that expose young girls to real software and concepts they would use in the industry
"I began working with TechGirlz informally to offer game design advice really. But that relationship became formalized through a grant received by the [Entertainment Software Association Foundation] to make these two new workshop courses," Lee said, describing how he started to become involved.
The TechGirlz workshops, known as "TechShopz in a Box," are created with the intention of being used all over the nation. "The workshops could be thought of as self-contained classes and projects — we create the material such as PowerPoint files and the programs that need to be used, but then someone who is tech-savvy could download that, learn more about that and lead a workshop anywhere across the U.S. using the free information," he said.
The topics covered in these workshops would sound very familiar to anyone involved in the tech world — introductory courses on programming with JavaScript, Python with robotics applications and Ruby on Rails are among the projects already in use. Lee's game design courses use an industry standard called Unity, a cross-platform video games creation system.
"It's great that we use this software, too, since we aren't dumbing down any material for them. They're actually learning the tools that they would use if they went into this industry," Lee said.
Lee also looks forward to partnering with another well-known association, the Girls Scouts of the USA, to get more girls involved in tech. Through their "Awesome Opportunities" program, girls can earn a game design merit badge.
The next few months look to be big ones for both Lee and TechGirlz, with the second deployment of the game design workshop April 11. Lee is excited to see how the girls continue to surprise him. "What really stuck with me, especially as the father of a new daughter, was that the girls were excitedly showing their parents what they made — and this was after a six hour work period! They started even messing around on their own and expressing their own individuality with things we didn't teach them. I think gaming is a perfect tool to try and get girls interested in the technical side of program but still exercise their creative side."