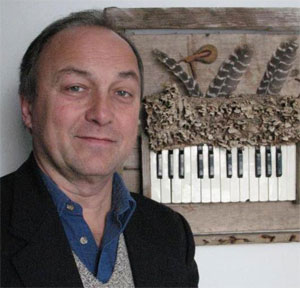 Paul Nolan of the Creative Arts Therapies Department at Drexel was the keynote speaker at the Oct. 5 congress of the Argentina Music Therapy Association in Buenos Aires, where he emphasized the medical benefits of music therapy.
Nolan, the director of music therapy programs of Drexel's College of Nursing and Health Professions, was featured at the conference, which took place Oct. 5-8 and hosted over 60 other speakers and roughly 200 guests. His speech was titled "The Choice to Move Toward Beauty: Contributions from psychology, spirituality and neurosciences," and he also held a workshop on using music therapy in group settings for the event.
Nolan said he made the trip to Argentina to learn more about how his area of study is perceived in South America.
"I wanted to learn more about how their culture has developed music therapy from their own cultural inheritance and found that music therapy is a widely accepted form of therapy for children and adults with neurological, psychiatric and medical disorders, much like in the USA, but perhaps for different reasons," Nolan wrote in an email.
"In the USA, the creative arts therapies — such as art, dance movement, music and drama therapy — have developed a strong research foundation which adds credibility within health care environments. Although this seems important in Buenos Aires, their positive family values system seems to place importance in the arts as a means for interpersonal connection. Tango music and dance is such a regular part of their everyday culture. The emphasis on beautiful architecture and the overall importance of color and art forms makes it very clear that aesthetic environments are valued and encouraged as important human values."
Though Nolan was partially invited to speak at the event because of his articles, books and appearances at international conferences concerning music therapy, his speech primarily dealt with the effect of beauty on one's consciousness.
"When a person has an experience in beauty during those times, we have a different type of consciousness. They are at peace with themselves. If they have pain or anxiety it seems to go away, and they enter a spirituality state of transcendence that they connect to things outside of themselves and attribute the beautiful experience to their body," he wrote.
The workshop he taught at the conference was titled "Developing Clinical Improvisation Technique for Groups" and focused on the responses of the body and mind through music therapy.
According to Nolan, it was about "playing music in a group therapy context and exploring various techniques for how music therapy improvisation can promote client expression and interpersonal communication within group settings."
Music therapy is used by patients of all ages and health conditions and is thought to promote positive physical and psychological effects. In medicine, music therapy is used to help alleviate developmental and learning disabilities, aging-related conditions, substance abuse problems, brain injuries and physical disabilities, among others.
"Music therapy can work as a type of psychotherapy because when we play live music therapy together, clients experiment with new behaviors. Someone who is very passive might gain insight about themselves from the music experience," Nolan said.
He added, "Music quickly creates physical changes in our bodies, and chemical changes occur very quickly. If someone is having a bad day and they hear the perfect song that they love, it has a very quick response in mood change. It can be very fast and very extreme."
While in Argentina, Nolan also held a workshop unrelated to the conference for INECO, an outpatient neurological and psychiatric treatment center, on Oct. 7. His wife, Stephanie Fliegel Nolan, taught the workshop with him. She is an early childhood music teacher and usually co-presents with him in conferences regarding creativity.
The workshop, which was titled "Creativity: Why is it important and how can it be enhanced?" focused on "how clinicians can become conscious of creative behaviors in their clients," according to Nolan. The workshop also addressed how everyday creativity benefits client health and ways this type of therapy could be enhanced.
"It helps people that have dementia and other cognitive impairments to become oriented and have a meaningful interpersonal experience, and there is no other medication that does this," Nolan said of music therapy, which he has been familiar with since he was a member of the music conservatory as an undergraduate.
Nolan plans to begin research shortly on the various physical and psychological impacts of beauty on cancer patients.