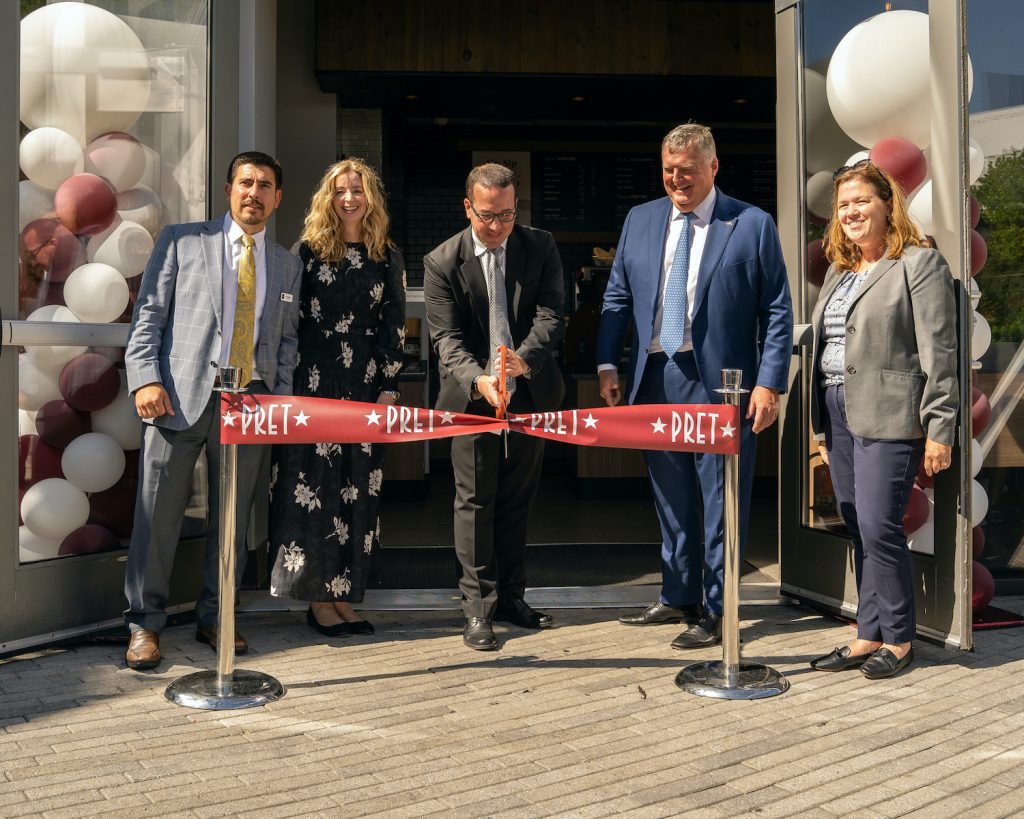 United Kingdom-based coffee and sandwich shop Pret-a-Manger held a grand opening ceremony for its new location on campus on Sept. 15. The ceremony featured representatives from Drexel Business Services, Aramark, ACC and Pret-a-Manger.
Located at The Summit building on 3400 Lancaster Ave, the new Pret has replaced what once was a Starbucks location. Pret offers a variety of food and drink options on its menu, ranging from coffee and pastries to fresh sandwiches, wraps and salads.
Pret prides itself on selling fresh, quality food that is also sustainable, and this location is no exception, according to its Retail Manager Jackie Acosta.
"We are producing everything here on campus in our kitchens, so all of the food that you see, our staff is here making it fresh each day," said Acosta. "We don't save anything if it doesn't sell. The next morning we're not putting it back out. We actually donate the items each day."
In keeping with its sustainability tradition, Pret donates everything that is not sold for the day to Philabundance, a nonprofit organization that seeks to end food hunger and reduce food waste.
According to Operations Director with Aramark at Drexel Campus Dining, Agnès Leclercq-Randazzo, this location seeks to serve as a convenient in-between location for students who are looking for a fresh meal.
"We have Starbucks at LeBow, [providing] great coffee for the business school. We have Chick-fil-a at Northside Dining that provides great fast food, but we really needed a retail location that provided fresh pastries, freshly made food, made that day, sold that day," said Leclerq-Randazzo.
At the grand opening ceremony for the shop, remarks were given by Nicholas Mendez, Resident District Manager at Aramark, Don Liberati, Associate Vice President of Drexel Business Services, Jack Donovan, President and CEO of Aramark Collegiate Hospitality and Jorrie Bruffett, President at Pret-a-Manger USA.
According to Jack Donovan, this location marks the first relationship between Aramark and Pret. Drexel is also the fourth university in North America to feature a Pret on campus.
So far, the location appears to be popular with the student body. Hopefully, it will improve the campus dining experience, as Don Liberati stated:
"One of the things we are constantly talking about is how do we continue to enhance the dining experience for our students, and…when this space became available, it seemed like a complete no-brainer," said Liberati. "It seemed like such a great opportunity for us to create something that would enhance the overall experience. And then you bring in a brand like Pret and it's absolutely win-win so from our perspective, we're happy to have Pret on campus. We're happy to welcome you to Drexel."
Pret's hours of operation are 8:00 a.m. to 8:00 p.m. Monday through Thursday, 8:00 a.m. to 6:00 p.m. on Fridays, and 8:00 a.m. to 3:00 p.m. on Saturday and Sunday. Dragon Dollars can be used at this location.