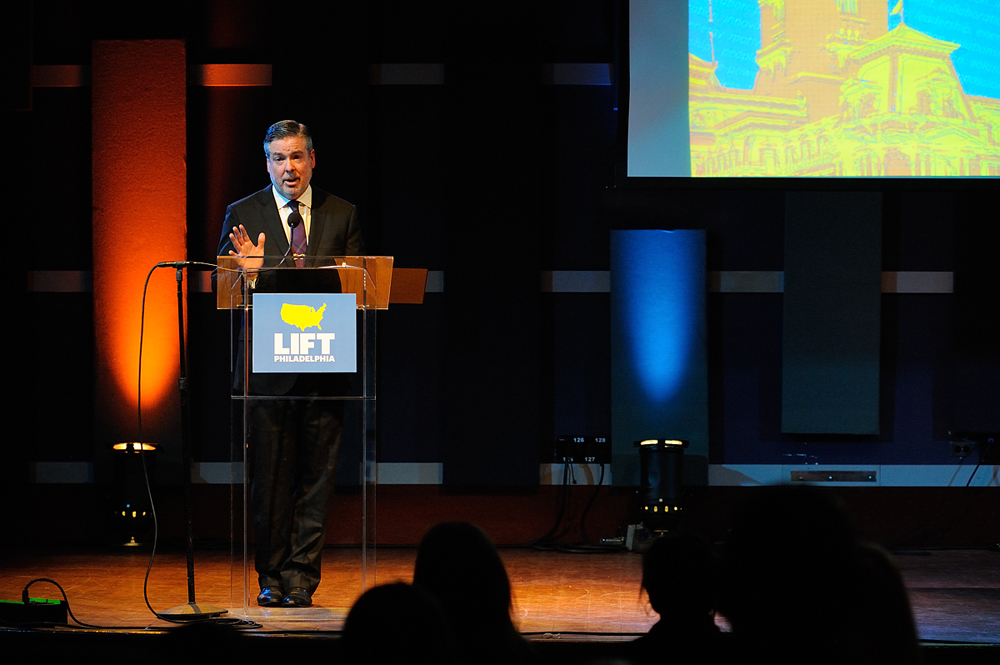 President John A. Fry received the upLIFTing Leadership Award for 2014 at the upLIFTing Philadelphia event, hosted by LIFT-Philadelphia April 30 at World Cafe Live, for his determination in making Drexel the most civically engaged campus in America over the past four years.
LIFT is a nonprofit organization started in 1998 by Kirsten Lodal and Brian Kreiter that aims to reduce poverty and provide families and individuals with a range of social services, such as finding jobs, securing housing, obtaining public benefits and gaining access to other organizations.
The evening began with a cocktail party with an open bar, food and music. Afterward, the award ceremony was led by Lodal, co-founder and CEO of LIFT. The award was presented to Fry and two other winners. Jill Aschkenasy, the founder of the nonprofit Our Closet received the Community Award, and LIFT member Tyrone McLaurin received the Commitment Award. There was a video presentation of McLaurin's work and time at LIFT before he accepted the award.
"We're honoring three people. President Fry was chosen for the upLIFTing Leadership Award because of the kind of commitment he made when he came to Drexel, wanting us to be the most civically engaged campus in the country, and how that commitment has inspired Drexel students to commit to the community and become active participants in being civically engaged," Nora Meighan, a senior anthropology major and LIFT volunteer, said. Meighan has been a LIFT volunteer since her service class during her freshman year.
She continued, "I'm presenting him the award, having seen [his endeavours] over the last four years since I started school when he came to Drexel. I kind of have seen the ways in which, just at LIFT alone, Drexel students have become more and more involved and Drexel as a culture has become more thoughtful of its neighbors."
According to Meighan, there are 15 to 30 service classes in session during each term. Volunteers and members of LIFT also participate in classes taught by Drexel professors in which they are educated on the issues surrounding poverty and life in the urban environment.
Fry had the chance to speak after he was given the award.
"I'm really excited to be included in the celebration," he said. "The thing about my job, you need to know, I often get credit for things I deserve no credit for, and so I accept this award not only on my behalf but on the behalf of my students and my colleagues at Drexel who have helped create this incredibly rewarding partnership with LIFT. They have done the work."
Fry went on to discuss his history at Drexel, starting with the October 2010 convocation. He also specifically spoke about Meighan as an example, describing her work at LIFT and her commitment there. Fry discussed the Lindy Center and how it fit into his vision for Drexel to become more civically engaged.
Fry is the second person to win the Leadership Award from LIFT. The first person was David Cohen, the executive vice president of Comcast.
"Comcast actually set up an Internet Essentials computer course with LIFT. So once a week someone from Comcast would come into LIFT and we would have a laptop library and they would work on anything from using a Word document, to using Google, to setting up a Gmail [account] and all of those essentials you need for getting a job, to apply to jobs. And Comcast directly supported us in that way. Anyone who attended all ten classes of any course [was] entered into a raffle to win a discounted laptop and discounted Internet services," Meighan said.
She went on to say that this course focused on people who haven't had experience with computers in a while and need a way to refresh themselves and improve their  resumes.
"This year, President Fry was a really fabulous contender for the upLIFTing award for not only his management in Powelton [Village], where most LIFT members come from, but also with the number of students. There's a tremendous [number] of students [from Drexel] that volunteer at LIFT each week," Cyndi Rickards, an assistant teaching professor of criminology and justice studies and board member of LIFT, said.
She continued, "It really was a reflective process on the board of LIFT of who has been a source of support and strength for LIFT throughout the year, and President Fry and Drexel just rose to the occasion."
"There's no partner more complimentary to our vision of civic engagement like LIFT-Philadelphia. It's a hand and glove fit," Fry said in his acceptance speech. "LIFT gives people the tools that they need to improve their quality of life, person by person and neighborhood by neighborhood. Every outcome that we want for Drexel students to experience in civic engagement, from a sense of responsibility, empathy, to a broader perspective and problem solving and leadership experience is present in the work that they do at LIFT."
This summer, LIFT is going to meet with Drexel faculty to discuss the ideal partnership between the University and the organization.