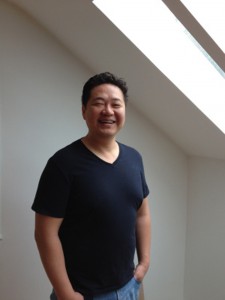 Video game news website Polygon recognized Drexel University professor Frank Lee on its list of the "50 Most Admirable Gaming People of 2014" Dec. 30. The category covers those who made revolutionary strides or positive changes in the gaming field. Lee was recognized for his innovative game of "Tetris" in April 2014 that was played using the lights on the well-known Cira Centre building. The award places him amongst many other influential figures in the video game industry and helps call attention to Lee's many contributions to Drexel and its game design program, one of the top-ranked in the country, which he co-founded.
Lee is an associate professor for the Westphal College of Media and Arts Design as well as the founder of the Entrepreneurial Game Studio.
"To find out that I was among one of the most admirable gaming people of the year was awesome and humbling," Lee said. "To be in the same company as John Carmack, Hideo Kojima and Anita Sarkeesian is a deep honor."
His idea for playing "Tetris" on the Cira Centre was not his first project to bring video games into real life. He first worked on a program in 2013 that would emulate the classic game "Pong" on Cira Centre, as well.
The idea for using the Cira Centre came to Lee back in 2008, while he was driving on Interstate Highway 76 in Philadelphia and spotted the iconic lights alongside the building. "While I was driving by and saw all that was happening, in my mind's eye, I saw 'Tetris.'" Lee said.
Polygon itself is a video game news site that consists of news articles, game reviews and videos focusing not only on games themselves, but the developers and notable figures behind them. Known not only for their video game content, but also their wide range of coverage in the fields for electronics and technology, Polygon has been ranked among one of the finest online journalism sources to date.
"I visit many gaming news sites but Polygon is where I turn to the most," Lee said. "Polygon is for me the gold standard for game journalism. It might not be a familiar name to people outside of gaming, but I would consider it the best and most serious gaming news site."
Lee himself is an avid gamer, having first started out at the age of 10 with the Atari 2600, which was wildly popular in the late '70s. With that much gaming history, it has definitely helped shape both who he is as well as his passion towards his work.
"The work that I was recognized for is by any measure atypical and eclectic compared to traditional work that professors do, but I have had nothing but full and ardent support from Drexel," Lee said. "Drexel is a place that will recognize and value great work, regardless of how eclectic it might be. For that I am deeply proud and grateful to be at Drexel."
Currently, Lee is presenting a proposal for the Bloomberg Philanthropies Public Art Challenge along with the co-writer, Drexel professor Adrienne Mackey. The goal is to create a collaboration of gaming and theater through art exhibits and spread it across the city of Philadelphia.
As for Lee's future plans concerning the Cira Centre or any other augmented reality gaming, all plans are under wraps and are being developed by Lee and his peers.
"There are plans in the works but it's too early to reveal them yet," Lee said. "All I can say is to keep your ears open. It is going to be epic."
Lee was also ranked among Popular Science's "The Most Amazing Science and Technology Images of the Year" and Billy Penn's "2014 in Philly Tech" list.