Amtrak, Brandywine Realty Trust, Drexel University, Pennsylvania Department Of Transportation and the Southeastern Pennsylvania Transportation Authority have teamed up to develop the Philadelphia 30th Street Station District Plan, a project to build and develop the area over the rail lines and surrounding the station. There are three main ideas for how the space may be used, with the organizations currently halfway into the two-year planning process.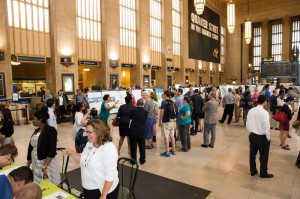 The three current proposals include Central Business District 2, Schuylkill Crossing and Innovation City. CBD 2 proposes extending streets over the rail area, expanding Drexel Park, creating a second "Central Business District" with office and miscellaneous buildings, creating a riverfront park, building a new bridge to Center City on Winter Street and improving the spaces around 30th Street Station. The plan would also add a new building to the station and integrate a smaller version of Drexel's "Innovation Neighborhood," which involves a major overhaul and update of John F. Kennedy Boulevard and Market Street.
Schuylkill Crossing involves the creation of a residential area, in the form of a "new urban neighborhood." The plan would also extend streets up to Spring Garden Street but would not extend Drexel Park. Instead, a series of "linear recreational parks" would be built, reaching down to Chestnut Street. The proposal includes a new permanent intercity bus facility with access to I-76 and 30th Street Station. This alternative method would develop
The final option, Innovation City, anticipates the expansion of the Innovation Neighborhood, creating areas for research facilities, tech firms, institutional buildings and large green spaces. The largest allocation would use 24 acres over the rail lines for "a great green park", and would also expand Drexel Park. This plan would include the intercity bus facility, like Schuylkill Crossing, and have skybridges connecting a number of the buildings.
A total of five open houses are slated for the project before the final master plan is created, two of which have already occurred. At the meetings, which took place at 30th Street Station on Jan. 28 and June 17, the current proposed ideas were presented to the public for the first time. The project team was also present for questions.
"The Philadelphia 30th Street Station District Plan … will create a single, integrated vision for the Philadelphia 30th Street Station District, full of opportunities for community development, economic growth and improved transportation connections," according to the information the boards presented at the open house in June.
The next meeting will be held in the Fall 2015 and will showcase updated versions of current project ideas. These open houses are public and can be attended by any interested persons.