Drexel University received LEED Gold certification from the U.S. Green Building Council for the Constantine N. Papadakis Integrated Sciences Building, according to a Sept. 20 University press release.
PISB is the first building on Drexel's campus to achieve LEED certification, a prestigious environmental award. The 150,000-square-foot structure is located at 33rd and Chestnut streets and is the new home for the biology department. There are 44 research and teaching laboratories, and the atrium contains North America's largest living biowall and the only one at a U.S. university.
"This communicates to people that [Drexel is] building environmentally sensitive buildings and that we recognize and are paying attention to the issue that as a society we are consuming resources faster than we are replacing them," Robert Francis, vice president of University Facilities, said.
The biowall, which was designed and installed by NEDLAW Living Walls, stands 75 feet high and 22 feet wide, serving as a biological air filter for the building. The roots of the plants draw in contaminated air and then have microbes remove the impurities. The plants also naturally regulate the building's temperature by cooling the air during warmer weather and acting as a humidifier when it's colder.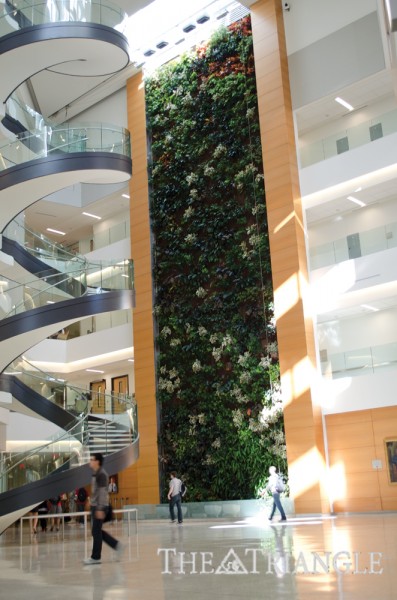 Toronto's Diamond Schmitt Architects were chosen out of a number of firms to design PISB based on their conceptual ideas for the structure and previous science-related structures they designed. Canada's Queen's University also houses a biowall and was used as the model for PISB.
The biology department and Drexel's Sustainability Council were heavily involved in the planning process. Their original goal was to obtain LEED Silver certification, but they quickly realized that if the proper funds were invested they would be able to reach LEED Gold. The total cost of the building was $69 million.
"As an advocate for eco-friendly structures, I think the pros outweigh the cons — less carbon emissions, healthier for its inhabitants and surroundings, doesn't disrupt the natural environment as much as conventional buildings do, energy savings, etc., with the con being, sometimes, the cost," Nicole Koedyker, a junior business administration major and president of Drexel's Sierra Club, said.
The LEED certificate checklist awards points in the following categories: sustainable sites, water efficiency, energy and atmosphere, materials and resources, indoor environmental quality, innovation and design process, and regional priority credits. Each item in these categories is given a number of points that can be earned to receive LEED certification, and the level of certification depends on the number of points earned.
The Green Globe Standard covers the following criteria: sustainability, socioeconomics, cultural heritage and the environment. All of Drexel's buildings uphold the Green Globe System standards.
"I personally think that the LEED certifications have more intense processes and require more dedication to the sustainable development of the building than the Green Globe certifications do. It's not necessarily an 'easy way out,' but I think Drexel can definitely do more by also setting up their new buildings to [be] Green Globe- and LEED-certified," Koedyker said.
Drexel is increasingly working toward building an eco-friendly campus. All new structures and renovations done to existing structures will be held to the Green Globe Standard, including the upcoming planned renovations of Nesbitt Hall and Stratton Hall.
"We have a more wide-retained effort than simply getting one building certified. This is a broad campus effort including academic programming, recycling, waste management and operating public transportation. We have a lot of thought going into sustainability on campus and being environmentally sensitive," Francis said.