A group of Drexel physical therapy doctoral program members went to Zacapa, Guatemala from Sept. 2 to 10 to provide clinic patients with vital care ranging from relieving arthritis pain to treating machete injuries.
The group of participants included 12 students, three faculty members and four program alumni who were flown in to work at the O'Halloran Rehabilitation Center in Zacapa, courtesy of the philanthropic organization Hearts in Motion. Students worked with instructors from the United States as well as Guatemalan physical therapists to treat patients.
"It was an opportunity to look at healthcare in another world and setting," Sarah Wenger, assistant clinical professor and coordinator of the experimental learning physical therapy and rehabilitation sciences department at Drexel, said.
Drexel students and staff treated young children with cerebral palsy, senior citizens suffering from back and arthritis pain, and walk-ins suffering from machete injuries. The group worked beyond the rehabilitation center, making house visits and providing care at senior citizen homes and pediatric centers.
Drexel DPT alumnus Christina Read described the scope of experience that the students developed during the trip.
"These students aren't given a prescription from a surgeon like they commonly are here in the U.S.," she said. "[They] have to be creative because they have very little at their disposal while treating patients."
Patients were abundant for the Drexel team, some walking four to five hours to receive treatment at the O'Halloran Rehabilitation Center.
Dennis Donahue, a non-Drexel attendee of the trip, described how Drexel students positively impacted the Center.
"There was a three-year-old wheelchair-bound girl who needed muscular therapy on her legs," Donahue explained. "After she returned to the clinic for the second time and received treatment from the Drexel team, she was able to stand again."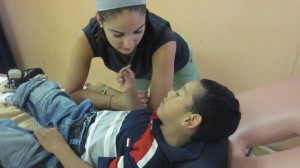 For some members of the DPT trip, this was the second time they had done this physical therapy program through Hearts in Motion, and some even plan to return again.
"I plan to continue going to Guatemala on an annual basis, and maybe one day down the road I'll be able to spend a longer period of time down there to really help build the program they have," Read said.
Wenger added, "Everyone is upset about the healthcare we have in the States, but when you go to Guatemala, you gain a real appreciation for it. Also, the experience is perspective building."
The Hearts In Motion program was created in Guatemala in 1990 to give needed medical treatment and care to communities throughout Central and South America while allowing individuals the chance to lend a hand in these experiences. The U.S. Hearts In Motion program thoroughly respects the culture of those they work with and strives to make resources more accessible.
For more information about the Hearts In Motion initiative or to get involved, visit heartsinmotion.org.