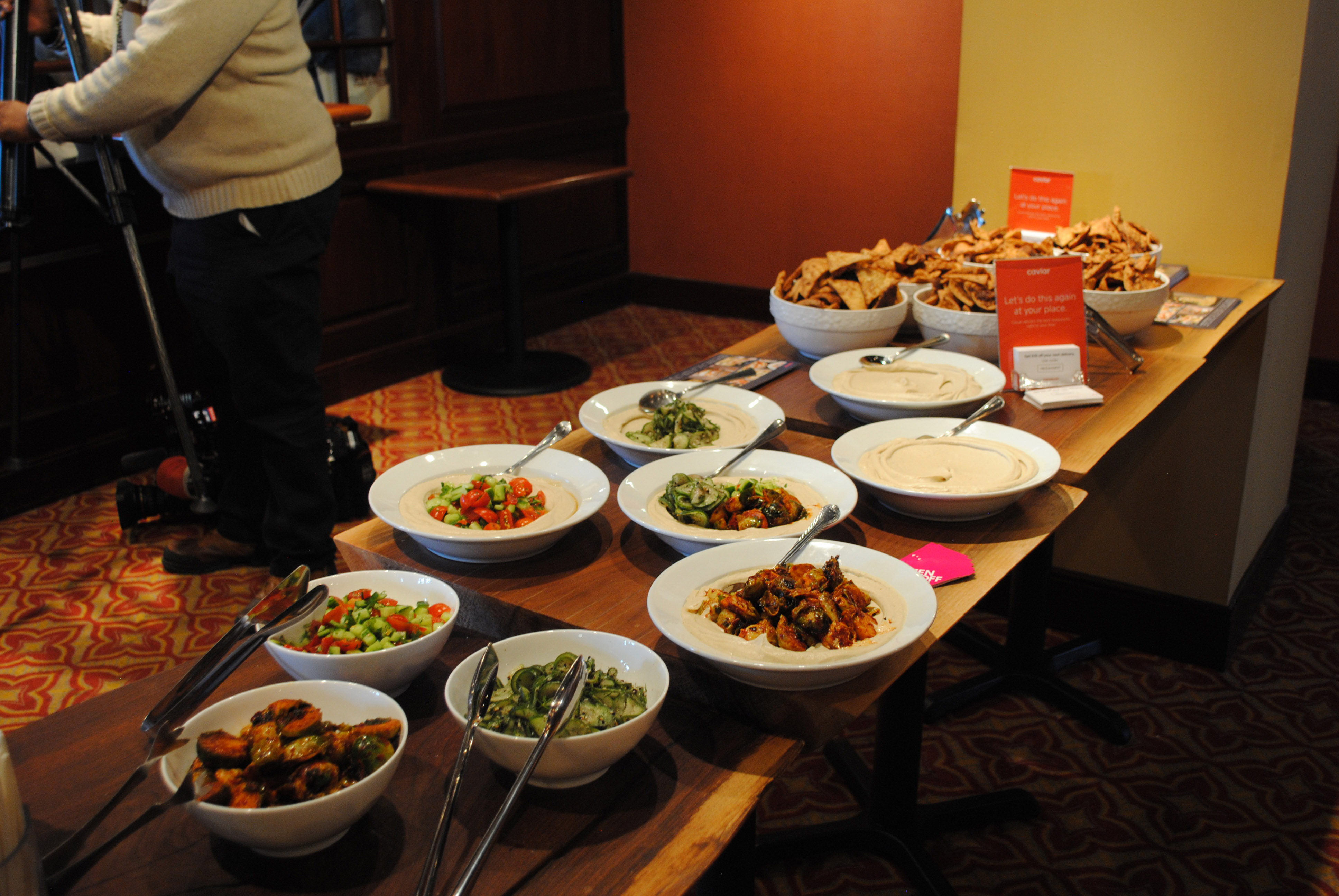 The 2017 Philly Chef Conference brought chefs, hospitality experts and restaurant professionals from all over the country to the Drexel University campus March 5 and 6.
Events began Sunday with guest lecturers speaking at Gerri C. LeBow hall to an audience of about 100 conference attendees. Provost M. Brian Blake opened the event with some remarks about the continual yearly success of the conference.
"The conference over the years has picked up a great deal of speed. I want to thank all of the attendants from the hospitality community. We've had the opportunity on campus to really take advantage of the type of things that come out of this community," Blake said.
Kerry Brodie was the first speaker for the evening. Brodie is the founder and CEO of Emma's Torch, a nonprofit organization dedicated to providing culinary education and training for refugees and asylees. The program provides its students with 100 hours of training composed of 70 hours of culinary training and 30 hours of career preparation, including English language classes and resume building.
"We give them the opportunity to showcase their culinary heritage, and join the tapestry of bakers, prep cooks, line chefs and small food producers that make up this country," Brodie explained. "James Beard famously said, 'Food is our common ground, a universal experience.' That's the backbone of our work. … We believe that the experience of cooking and sharing meals can build bridges between cultures," she continued.
The next set of talks shifted the focus towards ingredient genetics, innovation and restaurant analytics.
Stephen Jones, a professor of genetics, came from Washington State University to talk about his experience as a wheat breeder and baker.
"We develop new wheats. We make [genetic] crosses and we develop wheats that work for the farmer first. We are outside the commodity system completely," Jones explained, talking about the work he does with The Bread Lab.
Some form of an urban bread lab at Drexel is in the works for the future, according to Jones.
In the talks following Jones, M. Pilar Opazo, a restaurateur with a doctorate in sociology from Columbia University, spoke about innovation in the kitchen and her analysis of the successful restaurant elBulli, and Damian Mogavero gave a talk connecting restaurant analytics and the food industry.
"I went about solving [the disconnect between restaurant analytics and the food industry] by recruiting a chef, a sommelier, a restaurant manager and three techies. And the techies said to me, 'Why would you ever hire these restaurant people? They don't know anything about building code!' And you can only imagine what the restaurateurs said," Mogavero explained.
Mogavero went on to discuss how restaurant analytics can help restaurateurs plan better business plans based on "foodie" trends and keeping up with the demands of the "foodie generation." Citing new trends in social media, he explained how analytics might help.
This year, like previous years, the conference was organized and staffed in large part by student volunteers who are a part of the culinary arts or hospitality program. Four seniors were organizational leaders, and all other students worked in teams under those seniors. One senior, Alex De Los Reyes, has been a volunteer for the past three years and has now seen what it's like to be a leader as well.
"We're in charge of all the student volunteers and operations at the event. We've been doing a lot of the planning for the past month, and it's been really great," she explained.
The conference is especially important to seniors, De Los Reyes explained, because planning the conference gives them experience using organizational skills they will be expected to use when entering the workforce. The networking opportunities are also important for student volunteers at the event, who get to interact with many chefs and professionals each year.
"They've given me more responsibility each year because they see the potential of what students can do. Since we're learning this in classes it's awesome that we get the opportunity to actually do it," she explained.
The second day included a plethora of demonstrations in the kitchen and more traditional presentations.
The demo kitchen was especially full when Cure restaurant co-owner and chef Justin Severino prepared to demonstrate his butchery techniques on half of a pig.
Severino, who owns two restaurants in Pittsburgh, is a four-time James Beard Foundation Award nominee and Food & Wine's two time "best new chef Mid-Atlantic" winner. During his demonstration, he explained his respect for humanely raised livestock.
"As a professional, I started to really challenge myself with what cooking was all about. The first thing I agreed with was that it wasn't just about ordering any ingredient from anywhere on the planet with no regard for season. It was about really embracing local food. When I learned that I started to dive deeper into that and I started to learn about what food was as a commodity," Severino recounted.
In the other demonstration room was coffee tastings provided by Rival Bros., La Colombe, Elxir, and ReAnimator. Guests were walked through tastings of coffees by representatives from each company.
In the final set of presentations, a menu development lecture was given along with a health and wellness talk for hospitality industry professionals. Troy Jackson spoke about how to bring wellness into the back-of-house practices and why it is so important. Jackson has 20 years of experience in the hospitality industry.
"If you're a painter, you clean your brushes. You start with a fresh canvas. If I'm coming in [to work] feeling like crap from the night before, I can't cook, I can't perform, and I can't be a good host to anybody. … If I'm going to be a great artist in anything I do, I need to take care of this instrument right here," Jackson said, gesturing to his body.
Michael Traud, the program director for hospitality management, said all went smoothly.
"I think this year the most exciting aspect was that every single participant is from outside Philadelphia. There's people from New York, San Francisco, New Orleans, Copenhagen, all coming to Philadelphia to connect with our students. These ideas and these amazing individuals that you don't normally get to see or talk to are all here," Traud commented.
"Everybody comes together. Everyone volunteers. It's food, beverage, students, faculty, staff, and it's just an amazing day and event that elevates the program and gives our students some time to shine," Traud added.
Also giving presentations over the two days were Sydney Finkelstein, Claire Kopp McWilliams, Bill Telepan, Alon Shaya, Maria Campbell, Chris Curtin, Scott Haas and Daniel Gusti. More information about the Drexel's Center for Hospitality & Sport Management can be found on its website.