Celebrating both the start of warm weather and the city's blossoming technology and innovation sectors, hundreds gathered in Dillworth Park the evening of April 18 to partake in the kickoff event for Philly Tech Week. Coordinated by Technical.ly and sponsored by Comcast, the weeklong series of events aims to bridge the gap between industrial heavyweights and future leaders through a series of workshops, panels and competitions. The exposition, "Arcade @ Dillworth" featured live music, food, a beer garden, a Maker's Corner sponsored by NextFab and most notably the App Arcade: over 100 booths set up with indie games aiming to teach, entertain and inspire.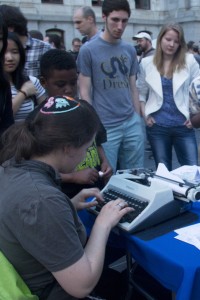 Large numbers of the attendees at the event were current Drexel University students and graduates who were showing off their work. Among those participating in the event was Greg Lobanov, a digital media major 2014 graduate and owner of "Dumb and Fat" games.
"This is my third tech week, actually," Lobanov said from behind his rather popular booth. "And this is the first game where I've done everything by myself, music and everything."
"Goo-goo," his latest creation is a colorful puzzle game in which the user navigates through a series of rooms as a sticky ball to collect stars. "I made the game in about two weeks, which is the fastest I've ever finished anything, so I'm really enjoying seeing how it fares in the hands of the user, out in the wild."
Lobanov cites communities in both Drexel and Philadelphia for his successes thus far, especially the connections he's made through the Philadelphia Game Forge. "You might not think it, but Philly is actually a pretty small city, so a lot of game design networking happens through the Game Forge."
Lobanov also commends Frank Lee, Drexel's associate professor of digital media and director of the Entrepreneurial Game Studio, for helping him get to where he is today. "I worked with him pretty closely and was one of the first members of his game studio. He gave me my first chance to work on games, you know, honing my craft and working towards where I am today," Lobanov said.
Computer science senior Tim Day and Sweet Roll Studio, another group present, cite much of their success to Lee's work as well. "We were the first company out of the entrepreneurial game studio at Drexel, and Galactikitties was the first game we published," Day noted.
Galactikitties is a survival game in which the player tries to collect as many kittens lost in space as possible and teleport them back to safety. Their good deeds in the virtual world will translate into the real world too, as proceeds will go to the Society for the Prevention of Cruelty to Animals.
"Galactikitties was made with only three students, as a sort of test run for the game studio," Day explained. "But we're working on our senior project, Malevolence Inc., which is going to be a much larger undertaking. There's eight of us now!"
Also in attendance was Chris Bennett, a recent Drexel graduate and director of marketing for Skyless Game Studios.
"We develop social, educational or philanthropic games; really, we look into anything that has a socially conscious edge to it," Bennett said of his company, which showcased two games at tech week: AssembleIt and LifeLeap.
The first is a game that aims to help teach teamwork and cooperative problem solving to children diagnosed with autism spectrum disorder through two-player challenges, while the latter focuses on bringing awareness to the need for healthcare in rural areas in India.
Bennett is most excited about how these projects can help facilitate real change and how many others are so willing to be a part of the movement. "We partnered with another Drexel organization, Aahana, and set up a system where any in-game purchases made will go directly to paying for procedures for affected kid in those areas," he explained.
In addition to getting to play with new software and meet the developers behind it, attendees also got the chance to play with technology both new and old, from 3-D printers courtesy of NextFab to typewriters sure to trip up even the most experienced typists. Eight-bit remixes of classics such as Elton John's "Benny and the Jets" proved to be the soundtrack of the evening, provided by Pixel8r and Dj CUTMAN.
One thing that all the developers loved about the evening was the crowd's reaction. As Day said, "I get the number of how many [people played] and for how long people have played, but it really is something seeing people react to the games in person. It's so much more satisfying."
Philly tech week continues until Saturday, April 25. Events can be found at 2015.phillytechweek.com.