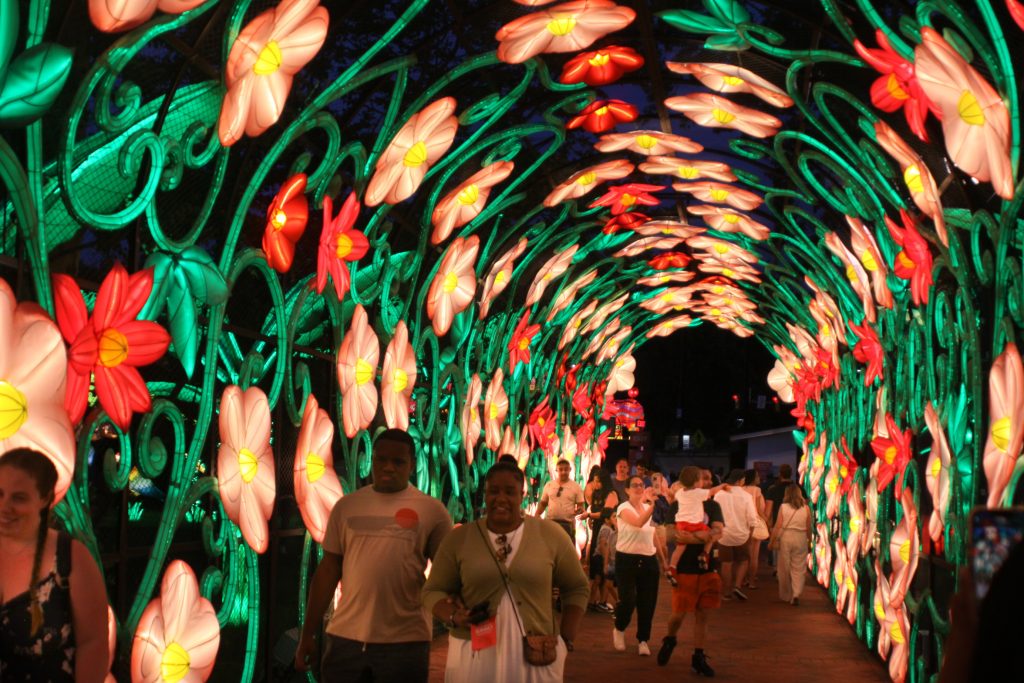 Everyday from June 21 to Aug. 13, the Philadelphia Chinese Lantern Festival is being held at Franklin Square from 6 p.m. to 11 p.m. The park is home to hundreds of large, weatherproof, colorful lanterns depicting various animals and scenery around the grounds.
Upon entry, visitors notice the largest dragon on the left with fog emanating from its mouth. The paths lead through large tunnels decorated with flower lanterns, lighting the way to each section of the park.
Different animals are displayed in every corner, including toucans, tigers, pandas, praying mantises and armadillos. Some displays, such as the peacocks, cheetahs and a large rose, move back and forth, giving life to the lanterns.
To celebrate the year of the rabbit, designs were selected from participants aged 10 to 14 from the 2023 Student Design Contest, sponsored by Temple University. Four winners got their design made into a lantern that they will be able to take home after the festival.
In the center of the park sits the Rendell Family Fountain, decorated with flamingo and hippo lanterns. Several times throughout the night, hoses within the fountain spray water in accordance with music.
There are also several stage performances available where talented professionals demonstrate Bian Lian (face-changing), foot juggling and ribbon dancing. Visitors can also ride the Parx Liberty Carousel and play Philadelphia-themed mini golf for an extra charge.
There are four food vendors available in the park for either Chinese or American cuisine: Dragon Beer Garden, Oishii, Sang Kee and Squareburger. The festival also offers Panda Promotions in which you can present your festival ticket or receipt to local businesses in Chinatown for a discount.
Tickets can be purchased from their website for any day as it is a rain-or-shine event.