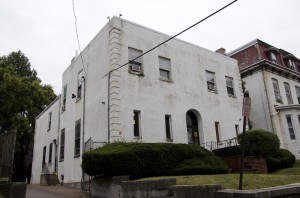 Philanthropist Raymond G. Perelman donated $6 million for Drexel University's future plans to build a Center for Jewish Life on the University City campus, it was announced Sept. 3. The center is set to be located at 118 N. 34th St., near the Lancaster Square construction site set to be completed in fall of 2015. The plans for the center, now to be named for Perelman, were originally announced in April 18 of 2013 and it will be completed by fall 2016.
The center was planned to include a chapel, dining hall, student lounge, meeting space, an outdoor patio that enables a construction of a sukkah (a temporary hut built during the week-long festival of Sukkot). Additionally there will be a kosher cafe open to the public, including a kosher kitchen for students in a three-story building providing 14,000 square feet. The budget for all this was set at $7 million. It will also be the site for Shabbat services and dinners, Jewish education programs and programs for opportunities in Israel. The kosher dining options are not something Drexel offers at the moment, so to some students this is a big up.
Jonathan Shoup, third-year history and science, technology and society student, agrees with that. "I'm not kosher but if I was I would probably go to Center City and spend an inordinate amount of money or get Rabbi Chaim [Goldstein, from the Chabad Serving Drexel University] or Rabbi Levi [Haskelevich, from the University of Pennsylvania Lubavitch House] to give me kosher food by sucking up to them and making funny comments."
Currently, the committee overseeing the design of the center is looking for an architect to finalize the project and to start the construction in the middle of the coming year, according Kenneth Goldman, senior associate vice president and chief philanthropic officer of the Office of Institutional Advancement The budget, however, has also increased to $8 million.
Additionally, due to the donation from Perelman, the University has raised around $7.5 million for this project — and it expects to raise the last half million to reach its target goal before the construction begins. The construction, however, is set to continue despite the goal not being met yet. According to Goldman, the University hopes to make extra money above its target, so as to add extra things to the center.
"It may or may not be the original design. It won't look like the pictures [we have now]," Goldman said, "but it'll still have many of the same functions." The process of picking a new architect, design and getting approval from both the University and the local government is predicted to last around six months, according to Goldman. The committee heading this process will compose of President John A. Fry and Senior Vice President of Administrative and Business Services James Tucker as well as many others. The Perelman family will also have a large say in the final design and can reject the design if they so choose.
The lead architect, once chosen, will organize an advisory committee that will involve the students as well as many other people involved in the current design in order to make changes if needed.
Currently, many of the functions that are to be provided by the upcoming center are provided on a smaller scale by the Drexel Hillel organization on campus, a branch of the Hillel of Greater Philadelphia. Based in the Paul Peck Problem Solving and Research Center in the Spiritual and Religious Life Hall right now, they will be moved to the Center for Jewish Life at its opening in 2016.
"In the Center for Jewish Life, they'll be able to do everything in a much more organized and larger scale," Goldman said. Hillel is working together with the Drexel Hillel Board of Overseers composed of Jewish alumni and parents to make the decisions going into the design of the center. They are also working with the Department of Planning, Design & Construction to ensure a high quality facility and the Office of Institutional Advancement to bring in funds for the construction.
To some students, however, the move of Drexel Hillel is not totally positive. "I already see a disadvantage when the Hillel office was moved. I'm not sure who ordered that but I think it was a bad thing. I kind of liked when all [the different faiths] were together in one building. It meant that I could see people from different communities and talk to them about their communities and now there's just no [opportunity for that]. Especially when there's people like, 'Why would you want go from one building to another, just to see a religious community you have nothing to do with?'" Shoup said.
"You can see that at Penn," he continued, "In some ways, the Muslim and Jewish communities — because those are the two smack dab in the middle of dietary habits — Penn Jewish and Muslim communities aren't as tight. They could be tight[er]. They're not that tight. Why? Because they're in completely different parts of campus." He also affirmed, however, that he was happy that the Drexel Jewish community would have a building dedicated to it.
Hillel's office in the ICC was across the hall from both the offices for Christians and Muslims.
The generous donation came in second to Perelman's first donation of $5 million for the creation of the Raymond G. Perelman Plaza, set to open officially Sept. 30, after a summer of construction. Perelman was also a recipient of an honorary degree from the College of Medicine in 2012, where he originally met with Fry, leading to Perelman's two most recent gifts to the University, according to Goldman.
Another organization that holds a strong relationship with the Jewish student body is the Chabad House, which was not involved in the planning of the Center for Jewish Life due to their lack of formal affiliation with the University. There is, however, a Chabad student group on campus. Chabad is representative of a much more conservative sect of Judaism, while Hillel was seen as more intersectional. Both organizations are encouraged to be a part of the new center, but the Chabad House will remain in its house at the Rohr Jewish Student Center on 35th and Baring streets.
"I think Chabad is happy though there is going to Hillel House, because Chabad's ultimate goal … which is to make sure that all Jewish people have a home away from home or have the access to Jewish culture, Jewish religion, Jewish life, which they might not necessarily be getting. Whether that's in a Chabad House or somewhere else, I don't think they really care," Shoup said.
The current Jewish portion of the student body is thought to be around 900 to 1000, much smaller than other private universities according to Goldman. Although, he said, the University does not have a hard target to increase the amount of students.
"President Fry has been a real driver for this," Goldman said. According to Goldman, it has been Fry's intention to put more focus on the Jewish community at Drexel and bring more Jewish students to the University since the beginning of his presidency.