Drexel professors, politicians and students gathered Oct. 15 for a panel discussion titled "Election 2012: Issues at Stake" in the Mitchell Auditorium to discuss issues that may be deciding factors this Election Day.
The panel aimed to help students and community members better understand important topics in an open forum.
"I think it's important that Drexel has an event like this so students can be informed about voting here on campus, about voting here in Philadelphia, … just in case a student from out of town doesn't have an absentee ballot, they can be part of voting here in the Philadelphia area," Evan Spencer, a freshman psychology major, said.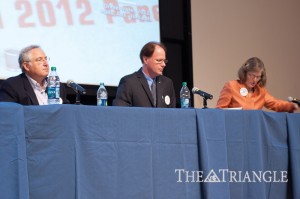 Carol Aichele, Pennsylvania's secretary of the commonwealth, served on the panel and was joined by three Drexel faculty members. The professors involved were Rose Corrigan, an assistant professor of law and politics and director of the women's studies program; Scott Barclay, a professor and director of the history and politics program; and Bill Rosenberg, a professor of history and politics and director of the Drexel University Survey Research Center.
"I have enormous respect for the students here at Drexel. Every time I talk to Drexel students I'm so impressed, and I wanted to make sure that I did outreach. I've been to Penn, I've been to Temple, and I wasn't going to leave Drexel out," Aichele said.
Each panelist presented on a topic, and then the audience was given the microphone for a question-and-answer session. Some topics included the future of the Supreme Court by Corrigan; the diminished role that the issue of same-sex marriage is taking this election season by Barclay; and how polls, ads and the media affect campaigns by Rosenberg.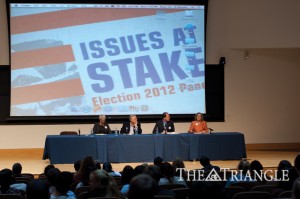 "My reason for coming is to encourage people who are registered to vote to participate in this year's election. I don't expect, I don't see the kind of enthusiasm this year I saw in the 2008 election, so to the extent I can help to get students interested and to the polling place on Nov. 6, I think we can get a good voter turnout here in Pennsylvania," Aichele said.
Aichele, who urged students to vote, fielded many questions on the new and controversial voter ID laws instituted in Pennsylvania.
"I think voting is part of empowering the citizenship, that far too few students vote and it has a large, often disproportionate effect on everything from student loans and the interest rate charged on them to support for higher education. Students are a population that's interested and should be well informed," Barclay said.
The panel discussion was sponsored by Drexel's Department of History and Politics, the Center for Interdisciplinary Inquiry and Drexel Votes.