Out Grads, Drexel University's Lesbian/Gay/Bisexual/Transgender-run graduate student group, held a panel discussion with local Philadelphian political activists May 17. The panel, "The State of LGBT in Greater Philadelphia," was held in the Earle Mack School of Law, and was moderated by Rose Corrigan, director of women's studies from the College of Arts and Sciences.
The panel included Seth Welles, Drexel associate professor of epidemiology and biostatistics; Brian Sims, president of Equality Pennsylvania; Gloria Casarez, director of LGBT affairs at the mayor's office; and Chris Bartlett, executive director of the William Way LGBT Community Center.
Panelists began the discussion by reflecting on their coming out experience in the work place.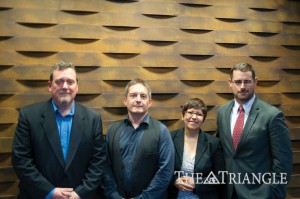 Being an active proponent of coming out in the workplace, Sims said, "Businesses get that being pro-gay is good for business … I regrettably did not come out when I joined my first law firm. I thought I laid enough clues.
"About a year in, I thought my co-workers were the stupidest people on the planet that they hadn't figured out I was gay … you need those things to distinguish you, and being an out LGBT person in college and law school is something you should be proud of," Sims continued.
Due to the recent Philadelphia primary, political activism and mentoring of future generations of LGBT youth was a large topic of discussion.
Bartlett noted that he came out during a time when there were large amounts of protests in the gay community due to the AIDS epidemic. Instead of fighting for gay rights, he was mentored by both men and women who taught him gay liberation.
"Gay liberation is broader than gay rights. It's fighting all sorts of battles, not only within the gay community, but elsewhere," Bartlett said.
Bartlett said he "respects wisdom from all ages." He explained that due to the taboo of being out and proud in that time period, he often has to "remind people that the LGBT movement of the 70s was run by men and women in their 20s."
"For the first time we have an out generation of LGBT seniors who can be mentors and advisers, and I think they also have a lot to learn from the youth. I see it as a two-way street, and I see it not as a hierarchy, but as a sharing of resources across generations," Bartlett said.
Sims noted that making changes in the gay community and furthering equal rights is an impossible feat unless there is assistance from straight allies.
"If it's true that gay people are only 4 to 8 percent of the population, 4 to 8 percent of the population has a really hard time making change, and we've made a whole lot of change that's hugely in part because of the straight allies. If we aren't recognizing that we have a ton of straight allies and acknowledging that they are out there and the work that they are doing, it gives them less and less incentive to do it," he said.
Casarez also commented on sectors that public officials must work on.
"The most glaring examples of where we go wrong with LGBT issues are in terms of city services around transgendered issues. We're talking about schools … When talking about schools, a young person is going to be identified by gender presentation, or by not fitting someone's gender expectation — a sissy, a butch, let's target him," Casarez said.
Casarez also commented on homeless LGBT Philadelphians, saying, "Our shelter system; it's a gender based system. The biggest thing that I'm trying to communicate to these departments that I'm working with is, LGBT issues are every issue."
Due to the plethora of issues and the many diverse groups of people who are a part of the gay community, there is a question of whether or not fighting every issue spreads resources too thin. Sims noted that there are specific topics that aren't realistic to pursue in the state of Pennsylvania as of now.
"I don't focus on marriage because it is not in the cards for the state of Pennsylvania, legislatively for at least eight or nine years … Sometimes it's looking to where there is a need," he said.
Casarez uses the phrase "LGBT communities" as opposed to "LGBT community" to express that there are more than one type of people within the community.
"I always on a language level say LGBT communities. Because unless we are using the kind of language that acknowledges that we are not a monolith, we're not this block, we will continue to be seen as this block," she said.
"In my work in government, I try to recruit people for departments because we have all these departments, and I want to work with all of them. I don't want to say, 'Okay, we were only able to get our economic development done, or our AIDS stuff done…' I find people who will work with me, who will work with other people to work with these issues, but I don't think we have to choose," Casarez said.
Former president Christopher Scoville, who organized the event, said, "We had some real leaders in our community representing government, community services, health resources, legal advocacy, I thought having all the perspectives at one table lead to great conversation.
"I think visibility is a bit of an issue at Drexel. I think that's part of Drexel in general. It's a matter of showing the university that there is an LGBT community here. Unfortunately we don't have an LGBT community center, which, in a lot of universities, that sort of becomes the focal point. At Drexel you don't have that, so at Drexel you have to find other ways to show our visibility," Scoville continued.
This was the first event for the newly formed Out Grads, which was developed in February. The panel discussion was attended by various members of the Drexel community, including a brief appearance in the audience by University President John Fry, who commented that he was eager to learn what he and the University could do to promote a positive environment for LGBT students on campus.