Drexel University has been looking into different properties to facilitate the expansion of Samuel Powel Elementary School at 36th Street and Powelton Avenue, one property of which is University City High School at 36th and Filbert streets.
University City High School was one of the 23 public schools that were shut down after a vote in early March by the Philadelphia School Reform Commission to help reduce school district budget deficits. Powel Elementary currently educates up to 250 children in grades K-4 and has already absorbed students from Charles R. Drew Elementary, which is located at 37th and Warren streets and has been closed.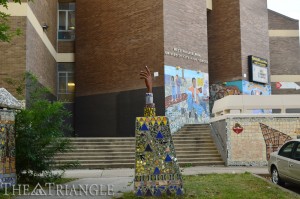 Last year, the Philadelphia School Partnership gave a grant $215,000 to Powel Elementary and planning for that grant involved Drexel University. The grant was to help the elementary school expand and Drexel's interest in the University High School property seems to be a extension of that mission.
"The cornerstone of Drexel's community revitalization effort is education and a commitment to improving public school options for families in the neighborhood," said Lucy Kerman, vice provost for University and Community Partnerships, in a Sept. 2012 press release. "We look forward to working with our key partners on a more comprehensive approach to school improvement and the development of high-performing public schools."
According to Kristen Forbriger, PSP's manager of communications and public affairs, PSP and Drexel began talks in the spring of 2012 and applied jointly for funding in August 2012. The grant was announced in September 2012.
"PSP invests in the creation and expansion of high-quality schools. Since our inception in 2010, we have met with numerous partners to discuss opportunities to create more high-quality school options for students in Philadelphia. We learned about Powel — and the opportunity for expansion — through Drexel, which has worked with both Powel and McMichael for years. Like all of PSP's grants, the collaboration among Drexel, Powel and Science Leadership Academy was selected following a thorough due diligence process," Forbriger said.
According to her, PSP has given $29 million in grants to help with the expansion of more than two dozen schools. The Science Leadership Academy at 22nd and Market streets is an adoptive high school of the Franklin Institute, working with Powel and Drexel in the expansion.
The property, however, is not up for sale yet. Mayor Michael Nutter's administration has set up a plan in order to keep some schools afloat in the coming school year by giving $50 million to The School District of Philadelphia in exchange for the unused properties in order to resell them. The legislation is currently going through the City Council for debate. According to a PlanPhilly article published Sept. 11, there is an alternative plan that the money would first go to the Philadelphia Authority for Industrial Development, which would then buy the property from the school district.
PAID would then sell the properties to equal the original $50 million or more. Any profits would also be given to the school district. The properties would then be returned to the school district, which would have the option of taking any unsold property at any point or leaving it with PAID to continue selling.
According to a Sept. 25 article from PlanPhilly, the Office of Property Assessment gave an estimated value of $23 million on the University City High School property. All of the properties, according to City Council, are thought to cost $106 million. This legislation, immediately putting a transfer of money to the school district according to the article, is currently in standstill in the Council.
According to Mark Gleason, the director of Blackwell and PSP, in a Sept. 25 article from PlanPhilly, Drexel's proposal is most likely going to add a fifth grade to Powel, adding 200-250 more students to the total student enrollment. There is also a suggestion of adding a middle school for grades 6-8, adding 300-400 more students. The middle school will follow the Science Leadership Academy model of schooling.
The director of media relations for Drexel University, Nikki Gianakaris, released a statement on behalf of the University: "Drexel is strongly committed to public K-12 education in Philadelphia and particularly in Powelton Village and Mantua. The University is sincerely interested in the future of the University City High School site and will continue to be involved in discussions about the development of the site."