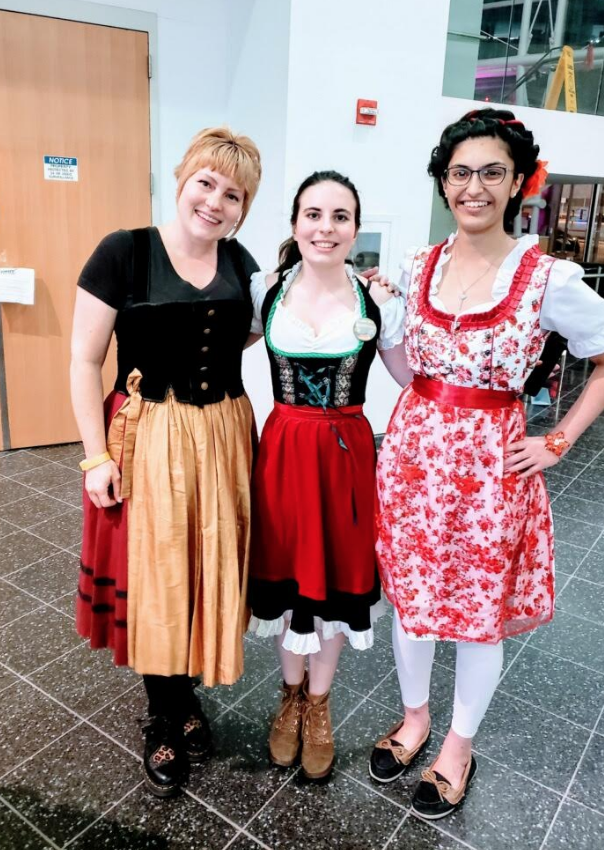 Drexel University's German Club and Honors Student Advisory Committee joined together Oct. 26 to host the first ever Drexel Oktoberfest in the Bossone Lobby, where students gathered together for three hours for a taste of German cuisine and culture.
This year marked the 182nd Oktoberfest, which took place from Sept. 16 until Oct. 3, following the typical 16-day duration. The festival began more than 200 years ago to celebrate the matrimony of Bavaria's Crown Prince Ludwig and Princess Therese of Saxony-Hildburghausen on Oct. 12, 1810. Several days of drinking, dining and horse racing commemorated the wedding. The celebration has become an annual event ever since. The festival is celebrated all over the world, but the main event is held in Munich, Germany.
Oktoberfest is typically known as the largest beer-drinking festival in the world. More than 7.5 million liters are consumed each year for the festival. According to regulations, only beer brewed from one of Munich's six breweries are allowed to be served. The festival traditionally starts when the mayor taps the first keg, announcing "O'Zapft is!" meaning "It's tapped!" The festival features far more than beer, including music, games, amusement rides and a traditional Bavarian fair.
Drexel students brought together a non-alcoholic version of the festival to bring German culture to its student body that featured German food, games, music, and speeches from Drexel students.
The event was led by the Drexel German Club, an organization with a mission to spread German culture and language throughout the Drexel student body. The Drexel German Club includes a mentorship program called the Deutsch Study Buddy Program that helps students fuse German culture into the Drexel experience by providing study-abroad guidance, social networking and even resources to help students brush up their German language skills.
Amarah Malik, a pre-junior double majoring in health administration and finance, is the founder and president of the club and was in charge of planning the event.
"After six months of actively planning this event, I was very proud to see the level of interest that I sparked in learning about the German culture," she said.
Malik has worked with Drexel students and faculty since April to bring the event together.
"Drexel students and faculty members who attended had the goal of learning about the history and traditions of Oktoberfest. The culture was all around to be experienced through the food, music, dance, and even talking to Drexel's German Club members," Malik said.
The event was led by a few student speakers sharing their German experiences, beginning with Timothy Sperry, a senior international business major completing an exchange program in Lebow College of Business. Sperry gave a video presentation of his experience attending Oktoberfest in Munich, adding a visually authentic element to the event.
Sperry was followed by Simone Schlichting-Artur, a teaching professor of German in the Department of Global Studies and Modern Languages. Professor Schlichting-Artur spoke about opportunities to learn German at Drexel including German classes offered and intensive courses abroad to immerse yourself in both the Drexel and German learning experience.
Speeches were concluded with James Atkinson, a senior finance and international business major, sharing his study abroad experience at Manheim University. Atkinson narrated numerous traveling stories set all over Germany, including his visit to the Oktoberfest in Munich. Despite the actual distance, these experiences brought audience members closer to Germany and its culture.
Drexel's Oktoberfest presented an opportunity to celebrate not only the German culture, but also the vast array of opportunities at Drexel to learn German, study abroad/co-op in Germany and network with other German-speaking faculty members.