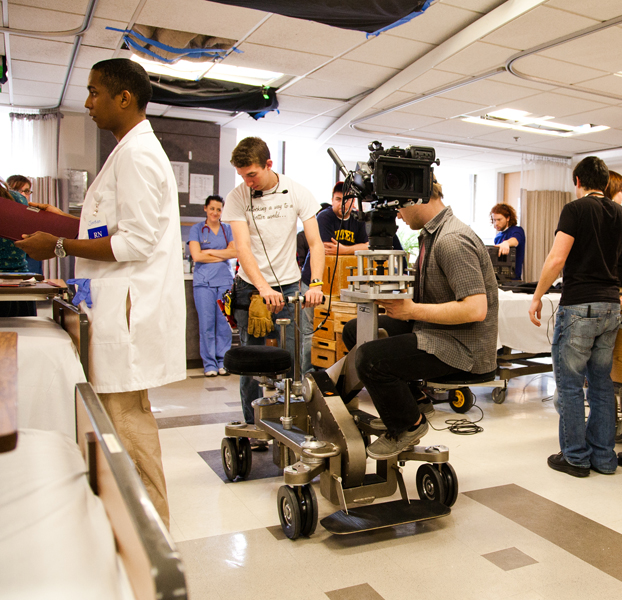 The award-winning Drexel University sitcom "Off Campus" aired its latest chapters — episodes seven and eight — on CW Philly 57 in early October.
Although created, written, produced, shot and edited by college students, the show is not about college. Instead, the dramedy  explores the "misadventures" of recent graduates living together as they begin their post-collegiate journeys. The show deals with real issues that current undergraduates can still identify with and write about with humor: roommates, romantic interests, friendships, parents and job stress.
Andrew Susskind, faculty executive producer of "Off Campus", is an associate teaching professor at Drexel and program director in the Department of TV Production and Media Management. Students answer to Susskind and other supervising producers in order to emulate the professional model of a network primetime show, where directors and other creative members must answer to the producer.
Susskind comes from the world of producing and directing for half-hour television comedies, and knows the value "Off Campus" offers students. Although a director may have a creative goal, the supervising producer has the final say, just like in primetime television. It teaches the students a vital lesson about what real television is like and how to best follow that model.
Part of this experience includes writing for characters that already exist. Because students may not take every class in the production process, it is more efficient to continue the development of current characters rather than create new ones with each new batch of screenwriting students and each episode. This also emulates the primetime television process and provides real-life experience.
"Writing for characters that already exist is likely to be [the students'] first television series writing job," Susskind said.
"Off Campus" is unique as a result of its atypical production schedule. A single episode takes over a year to assemble, beginning with two collaborative writing classes and ending with a post-production class to resemble the television production process. Students can begin by taking a screenwriting class in the spring term, taught by Professor Bruce Graham, where the goal is to create a first draft of the episode. In the following summer term, students take a rewrite class in which they sharpen and define the details of the episode.
"[These cooperative writing classes are] the only collaborative classes in the screenwriting curriculum … [which] allows for more personal … and vulnerable writing," Susskind said.
Pre-production and filming occurs in the fall term and filming continues into the winter term. Because students only meet once a week, approximately 14-15 out of the 20 days in the combined terms are shooting days. This process continues into the spring with an editing class — and at the same time, students in screenwriting create the first draft of the next episode. Lastly, post-production, which encompasses facets like sound effects and music, occurs in the summer.
This production schedule is cyclical and never slows, showing the dedication and time it takes to create a single episode. And while there is an overlap in production of these episodes, there is not necessarily an overlap of students. Because of this, students have the opportunity to advance in their roles or alternate roles from term-to-term, yet students generally maintain the same position throughout a single quarter.
While the "Off Campus" cast consists of professional actors, the crew is entirely student-run. Although the cinema and television department manages and supervises operations, other majors are welcome to engage in the creation of each episode.
Interior design, fashion design, hospitality management, and even construction management majors have successfully worked on the show in different capacities. Sophomores and upperclassmen can enroll in any of the production courses.
"We welcome the participation of other students," Susskind emphasized.
More than anything, Susskind is proud of the show itself as the largest sustained production at Drexel and the resulting growth in student experience.
"It's quite an accomplishment on the part of the students [and] as far as I know it's the only college narrative work that has appeared on a broadcast network,"  Susskind said.
"As a course I think it's been the most important learning experience I've had at Drexel. … I can say working on this show helped shape the kind of media professional I am today," Sergio Galeano, a television production student and supervising producer, agreed.
After its fourth year in 2011, the sitcom was picked up by CW Philly 57. The channel aired the first four episodes of "Off Campus" recently, showing one episode per weekend then altogether as a block schedule. The latest installments of the sitcom, episodes seven and eight, were aired on Oct. 7 from 11 p.m. to 12 a.m. The show also runs on Drexel University Television (DUTV) and has been picked up by Fios and Comcast, where the episodes run officially two to three times annually.