Drexel University sent out a mass email June 17 to inform the student body that the campuswide student software license for Microsoft Office is being phased out.
According to the email, Microsoft Office will be removed from the University's secure software server July 29, and the software license for copies already downloaded by students will expire Oct. 31. At that time, students who use a Drexel-provided copy of Microsoft Office on their personal computers will either have to start using free productivity programs, such as Google Docs or OpenOffice, or purchase their own copy of the software.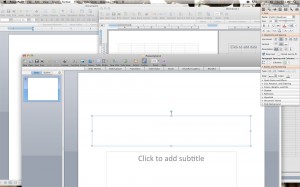 Chief Information Officer John Bielec cited a number of reasons for the decision, including better software discounts for college students, the increased availability of free online alternatives to Office and the growing cost to the University of providing a campuswide license.
"The program has been in place at Drexel since its inception in 1999. At that time students kept their computers longer, Office seldom came bundled with new computers and the academic discounts offered to students were not very aggressive," Bielec said. "Given these factors, Drexel was one of the first schools to enter into a campus agreement, although the majority of colleges and universities did not — and still do not — participate."
Bielec went on to say that the campuswide license was no longer the most cost-effective way of ensuring that students have access to productivity software.
"Given today's technical environment and an uncertain economic climate, committing $1 million over three years to maintain a legacy program was not considered a good investment given the availability of free alternatives such as Office 365 or OpenOffice and the growing popularity of non-Windows/non-MacOS devices that can't run Microsoft Office," Bielec said.
The June 17 email recommended eLink by Microsoft ExchangeLabs as an alternative to purchasing Office software. The University provides all students the opportunity to obtain access to Office 365 via Windows Live, 25 gigabytes of online file storage space and 10 gigabytes of email storage space by creating an eLink account through accounts.drexel.edu. The online Office applications available through ExchangeLabs offer most of the basic functions, but not the full functionality, of the desktop version of Office. Students who wish to purchase their own copy of the software can log into DrexelOne and find links under the "Drexel" tab to several software providers that offer academic discounts.
In related news, another application that was slated for removal from the software server will actually remain available to students for free. Ken Blackney, associate vice president for Core Technology Infrastructure, informed The Triangle that the campuswide student license for SPSS, a widely used program for statistical analysis, has been renewed. The Office of Information Resources and Technology had announced March 9 that students would no longer have free access to SPSS after June 30.
"I believe that it was saved at the last minute," Blackney said June 23 in an email. The next day, an announcement appeared on IRT's website confirming that version 19 of SPSS is now available on Drexel's software server. Because the license for version 18 is still set to expire, students who had installed it will have to uninstall it before installing version 19, according to the announcement.