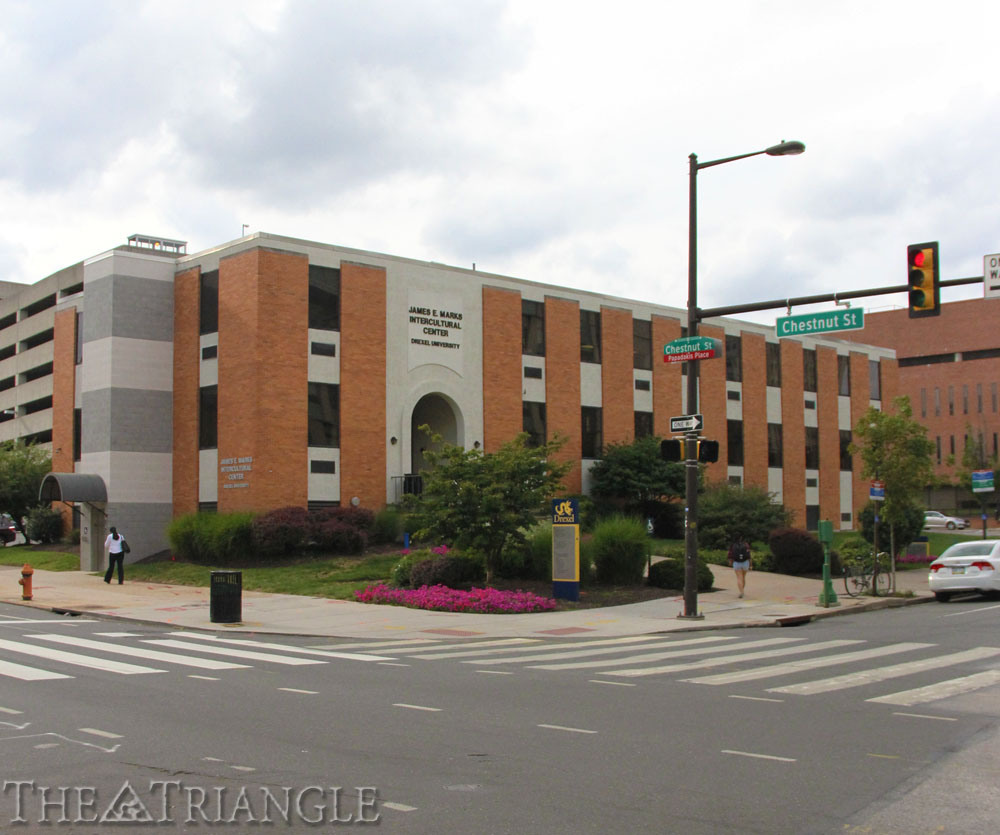 A new hotel will officially be built on campus at 33rd and Chestnut streets, replacing the James E. Marks Intercultural Center. The hotel, to be named "The Study at University City," will be constructed by Hospitality 3, a Connecticut and Manhattan-based hotel development company, designed by the Philadelphia firm DIGSAU, and operated by Hospitality 3's subsidiary, Study Hotels.
The Study at University City will have 212 rooms, approximately 7,000 square feet of banquet and meeting space, a 105-seat corner restaurant and bar, and a fitness center.
"The building has been designed to maximize its presence on the corner, creating a strong pedestrian connection and establishing a unique identity on the street," DIGSAU representative Jeff Goldstein wrote in an email.
According to Goldstein, engagement withneighboring buildings on Drexel's and University of Pennsylvania's campuses, as well as providing occupants views down Chestnut Street to Center City, will be part of the final design.
When asked about how the hotel will specifically impact students, Senior Vice President James R. Tucker replied in an email: "First and foremost, parents and families from out of town will have the option to stay in world-class accommodations right on Drexel's campus when they visit students during orientation, commencement, move-in and move-out, and other milestone events throughout the year. The hotel will also be available to prospective students and their families when they come to visit Drexel from out of town, as well as to visiting scholars, researchers, speakers and dignitaries who come to collaborate and share knowledge with Drexel faculty and students."
Assistant teaching professor and program director of hospitality and tourism Michael Traud was also positive about the building. "The Center for Hospitality and Sport Management is very excited to have the opportunity to work with the new hotel on campus. This new hotel will bring great opportunities for our students for co-ops as well as part-time employment," he wrote in an email.
 However, not everyone is excited about the hotel's development.
"I don't see the reason why there should be a hotel; I just don't see the need," Hasanur Rahman, a business administration and marketing sophomore, said. "A lot of Muslims come [to the Intercultural Center] to pray. It's a hang out spot. All my friends are here since classes are nearby. The closest mosque will be too far away now."
After the demolition of the Intercultural Center, the nearest mosque to campus will be located at 43rd and Walnut streets. The Study at University City is scheduled to open in 2016.
Hospitality 3 will base its Study at University City off its flagship hotel program in New Haven, Conn., called "The Study at Yale." Branded as "a lifestyle hotel," The Study at Yale is a hotel that seeks to embody the motto "Read, Rest, Reflect."
Special features of the hotel include a vast bookcase curated by the Strand Book Store as well as a section for books by Yale alumni. If booked online, rates for the Study at Yale start at $219 per night for a Double Room and go to $359 for a King Study. The rate for the Presidential Suit was unlisted. Study at Yale has a 4.5 out of 5 rating on TripAdvisor, based upon 378 reviews.