Drexel University released a geo-location app called Dragon RoarWards Aug. 15 in hopes of boosting student attendance at university athletic events. This program operates by rewarding attendees who "check-in" to events with points that may later be exchanged for merchandise. The app utilizes the user's smartphone geo-location to verify their attendance.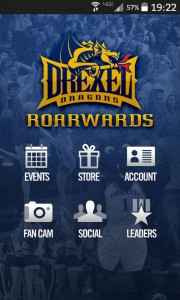 The idea for the Roarwards program was developed by Drexel University's Athletic Department marketing team during the summer of 2015, according to Kristin Segers, Coordinator of Tickets and Marketing. The team was interested in finding "different ways to engage students on campus" which led to the development of the program idea.
"We wanted to keep with the times and figure out how to reach students in a way that was easy and consistent with their lifestyle already," Segers said. After talking to leaders at the University of Pennsylvania, where a similar rewards program is implemented for student attendance to athletics events, the Drexel team decided to give it a try..
Sophomore biological sciences major Nicole Buleza expressed interests in the app and suggested it might change how students approach Drexel athletics.
"Drexel sports have never really been a priority for me to go watch," Buleza said. "[The app makes me] more inclined to go to the games," she continued. Buleza thought her interest in the app would extend to Drexel's student body.
"[I think that the app] will get more people to actually go to [sports events]," she said.
Sergers also spoke on the Athletic Department's hopes for student usage of the program.
"We really want the student body to be a part of [sporting events] because they are the reason that we're here and why we do what we do," Sergers explained. "So, we really want them to be involved with us as an Athletic Department and as a school to increase Drexel pride," she continued.
The app is available for a free download on both the Apple store and Google play. It has two options for account creation. Users may sign in by connecting the app to their Facebook account, or they may create a username and password with an email account. Once signed in, users have some control over the personalization of their accounts, including the feature of adding a profile picture. Students may also "connect" with their friends by inviting them to download the app or by having friends scan their personalized quick response code, accessible in the account page.
The app also features an event calendar listing Drexel's sporting events. These listings are accompanied by game times, information on admission prices (free or unlisted), the opposing team and the location. This calendar extends to April 2016, giving students plenty of time to plan ahead if they wish to attend an event.
Each attended event garners the user 10 points on the app. Points are accumulated until the student wishes to exchange them for merchandise available through the app's "store." Currently, the store boasts three pieces of merchandise available for varying point values: a Drexel lanyard, a Drexel silicone card sleeve and a Drexel themed memo board. The app also hosts a "fan cam" as well as a social media section and a leader board where those with the most points appear.
After learning of the new program, Virginia Tanner, a biomedical engineering sophomore, spoke in favor of the new app.
"We're there because we want to be but it's nice to get some stuff out of going to each game," Tanner stated. "Games are time away from school so it's a nice reward," she continued.
Will this new program change how students approach Drexel athletics? Buleza said that the program makes her feel "more inclined to go to the games." Before hearing about the program, Buleza said that "Drexel sports have never really been a priority for me to go watch." In a conversation about the new program, she said that the new app is "a good thing" and that she thinks "it will get more people to actually go to [sports events]."
Segers expressed her wishes that the new app would be successful in increasing student body attendance to Drexel sporting events. Over the next few weeks, the marketing team behind the app's release will be at different locations on Drexel's campus to spread the news of the RoarWards program and answer any questions students may have regarding the app. Questions may also be directed at the team through Twitter @Drexeldragons.