Drexel University's Daskalakis Athletic Center now features one of the mental health kiosks dubbed, "MindKare" that were scheduled for installation in January 2015. The kiosk is one of two that were recently installed in city, the second being placed in the Stephen and Sandra Sheller 11th Street Family Health Services Center. Its predecessor was installed at the Fox Chase Philadelphia ShopRite clinic. Drexel is now the first university in the nation to have any such kiosk where students can have the state of their mental health evaluated.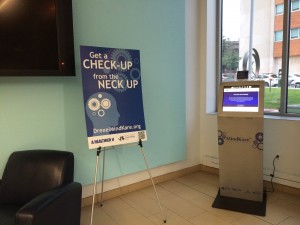 The kiosk is part of the mental health awareness movement started by the The Scattergood Foundation and Screening for Mental Health Inc. who partnered together to help raise $25,000 through an IndieGoGo campaign. The newly available kiosk in the DAC is part of the initiative to help monitor and treat Philadelphia students and citizens' stress, anxiety and any problems induced by the former two.
"I didn't even realize that we had something like that available," Daniel Schoepflin, a computer engineering and computer science major, said. "I would definitely try it out just to make sure everything looks okay and it's available for us."
One of the major goals of the kiosks is to help reduce the overarching stereotype or fear of seeking help when under mental duress. With that in mind, individuals using the kiosk will have private sessions but will still be in the open space of the DAC. With reports from The New York Times stating that the almost one in six college students have been diagnosed with anxiety in the past year, Drexel is pushing for the best treatment possible of its students.
"From what I've seen, Drexel does a decent job providing students with the means to take care of both themselves and their mental health," Chelsea Bann, design and merchandising major, said. "I know that there are counselors that you can go to and I've had a friend use them before so it's good knowing that they're there for us."
Along with the kiosks, Drexel has other methods of mental health treatment. Previously, the website DrexelMindKare.org features the same self-assessment that the kiosks offer and have been available for the past few years. The well-known therapy dog, Jersey, is also available to students and can be found in the DAC year round as well.