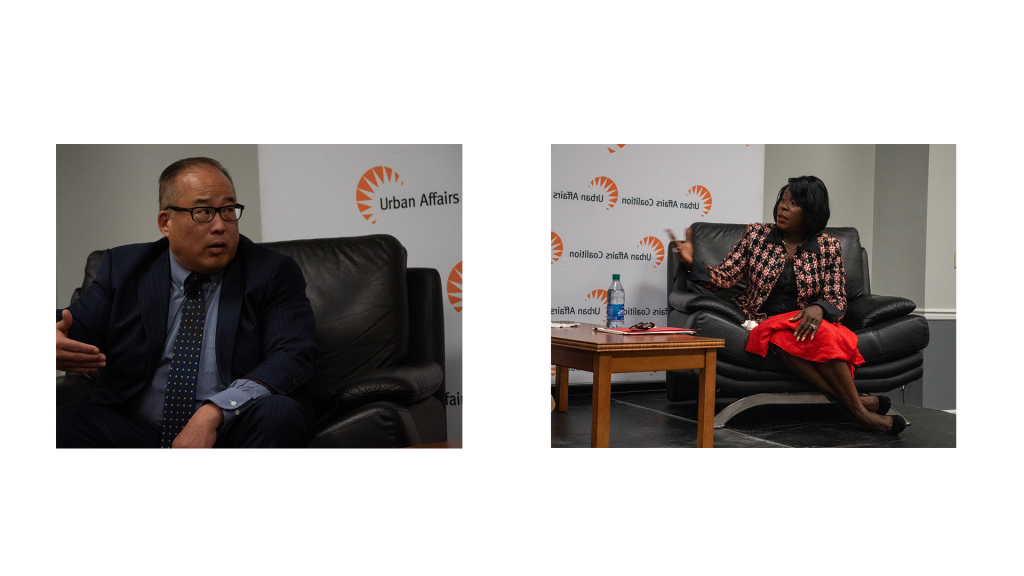 Philadelphia mayoral candidates Cherelle Parker and David Oh participated in an "Our Vote, Our Future" forum led by the Urban Affairs Coalition on Oct. 26.
The forum was in anticipation of the upcoming election on Nov. 7 that will decide Philadelphia's 100th mayor. Held at Temple University's Liacouras Center, the forum featured questions selected by the Urban Affairs Coalition, as well as questions submitted from event registrants and community participants. The event was moderated by Andrea Lawful-Sanders, a radio host at WURD.
The forum was structured with two 45 minute sessions for each candidate to answer questions. Candidates were faced with questions that were related to some of the biggest issues the city is facing, such as gun violence, opioid use and a public education crisis.
Both Parker and Oh were in support of police officers and stated they will work together with the Police Commissioner to address some of the city's problems.
Parker said she will take the PIE approach when it comes to law enforcement in the city — a trilateral focus on crime prevention, intervention and enforcement.
"Part of that plan [was] I wanted officers on the street riding bikes, walking, getting to know the community that they are sworn to protect and serve not just as a tool to address public safety, but we also have real reasons and a need to rebuild trust between the community and law enforcement," said Parker.
Parker claimed that the news had only been only talking about certain aspects of her law enforcement plan like her support of stop-and-frisk, as opposed to other components like anti-violence funding and community building.
Oh was concerned with the shortage of police officers and said that "when [people] cannot count on 911 and when they hesitate to call the police, or the police are not around or at their service, that indicates to them that they're not cared for, that they're neglected, that they're disregarded."
Part of Oh's plan is to hire more police officers from the National Guard, military, or immigrant communities. Oh also thinks that barriers like debt should not be a problem for people to become officers, and wanted ways for that debt to be paid off upon being hired. Oh emphasized that the standards for training officers should not be lowered and instead should be enhanced.
Both candidates expressed support for workforce development and more vocational training opportunities. Oh in particular was in support of vocational and career training being offered at every school.
Oh also talked about the opioid crisis in Kensington, and how he would "enforce the law."
"The government created the problem in Kensington and the government will have to invest, to bring back your community that it destroyed. And so, I will put money into Kensington to replace that drug economy with restaurants, and with arts and with innovation. And with small businesses, we have to rebuild the community that was destroyed," said Oh.
Parker reiterated her stance against safe injection sites and instead advocated for "long term" care.
Another topic that came up was addressing poorly resourced public schools and community organizations. Both Oh and Parker acknowledged that there are not enough resources or enrichment opportunities available for youth.
As Oh stated, "The schools have to have a level of equity. We cannot have schools that are so dramatically different. That people can actually tell that my school is not as good as that school because what does that say about me and my neighborhood, my community."
"How about we figure out a strategic plan? That could potentially be fun year round opportunities…Instead of a whole two months off to have to endure what we call the summer slide, how about it's two weeks here, three weeks there, so that we have a consistent range of year round academic opportunities…" said Parker.
"I want to focus on long-term care, treatment and housing. We have to do it in conjunction with the community, the existing community leaders, Councilwoman Quinones Sanchez, all the elected officials who are in that region, we all have to come together with local, state and federal government," said Parker.
To watch the full mayoral forum, visit WURD's Facebook page where it is available.