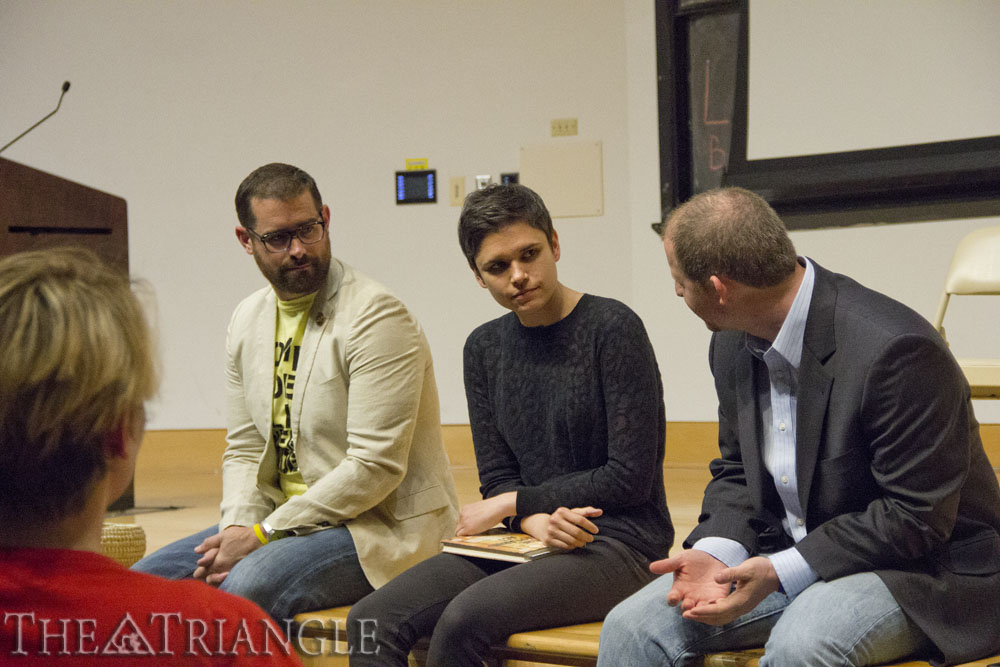 Days after Michael Sam, the first openly gay player to be drafted into the National Football League, was recruited by the St. Louis Rams, The Good Idea Fund and entertainment and arts management junior Matthew Jolles hosted a Sports Pride Festival May 13 in the Mitchell Auditorium at the Bossone Research Center to talk about LGBTQ athletes within the sports world and on college campuses. The event's keynote speakers were Pennsylvania State Rep. Brian Sims and ESPNW writer and author of the book "The Reappearing Act" Kate Fagan.
"The idea behind the event [is that] it is the first time that Drexel University is doing something for Pride Month to recognize the prevalence of LGBT athletes on the Drexel University campus and [in society], especially after the groundbreakings of Jason Collins in the NBA, Robbie Rogers in MLS and now Michael Sam in the NFL getting drafted by the St. Louis Rams this weekend," Jolles said in an interview before the event.
The event began at 6 p.m. with a small group of people sitting in the front of the auditorium, facing Jolles, Fagan and Sims. Jolles began the event by talking about his side of the story, starting when he came out as bisexual and how that transitioned into his advocacy work for the LGBTQ community. He then passed the spotlight on to Fagan.
Sims asked Fagan to talk about her experience coming out as a gay basketball player at the University of Colorado Boulder and staying in sports.
"I thought about going into coaching after college and even though I was very closeted and really scared of who I was as identifying as gay, I knew that I couldn't go into coaching because of the climate in women's sports. That would mean that I would have to live a very scared and closeted existence," Fagan said.
She went on to describe how this moved her to become a writer and still work in sports. "Leaving to [go work for] ESPN, I was still mostly closeted … the idea of writing in print 'I am gay' would never have happened. If you told me 10 years ago that I would write ['The Reappearing Act'], I would be scared out of my mind. Even three years ago, I would've run away from that idea," she said.
Her book is about her experience as an openly gay Division I athlete.
Fagan finally did come out at work in a piece that she decided to write in first person for sports athletes that came out as straight allies of the LGBTQ community, writing that she came out of the closet in her college basketball career in the first line. Fagan also faced emotional trials when she originally came out of the closet in college, and her book reflects on those experiences.
After Fagan spoke, Sims went on to talk about his coming out as gay, as a football player transitioning from high school to college football at Bloomsburg University of Pennsylvania. He also spoke about his passion for women's rights and women's issues that began early on and continued to grow as he attended his university in a town run by women with a history of strong women's sports. By his last year at Bloomsburg, he was chosen as captain of the football team.
After his team found out that he was gay, Sims learned they had a meeting to establish that they were completely and outwardly supportive of him. His friends and teammates would slowly come up to him and one-by-one tell him that they supported him, but also ask, "Are you okay?"
"Without fail," Sims said, "every single one of them, before they would apologize, they always wanted to make sure that I was okay. It turned out that they all were really nervous that we had spent four years playing together in many ways against all odds … and they were nervous that for me, while I was apparently such a present part of their experience, that I maybe didn't look at them as close friends as they looked at me, that I had been scared in the closet and keeping a list of every time they said something anti-gay or hateful."
Sims still receives calls from his former teammates, now mostly teachers, about handling issues regarding the LGBTQ community and how they speak about having a gay football captain in college because it was just as much about their experience as becoming accepting and supportive as it was about Sims coming out. Afterward, he talked about running for office as an openly gay man.
"Pennsylvania does not have a single LGBT civil right statewide. Ever talk about how we don't have [same-sex] marriage? We don't have anything. There is not a single statewide piece of legislation in the [Commonwealth] of Pennsylvania," Sims said, talking about his work in advocacy and civil rights.
Philadelphia, on the other hand, is the most LGBTQ-friendly city in America according to Sims. He expects to have every civil right that every other state has passed within the next two years, including the Pennsylvania Marriage Equality Act he introduced.
"We are just now really starting to talk about these issues and not be afraid of them," Fagan said.
On ESPN's coverage of Sam's draft into the Rams, Fagan described it as "groundbreaking" for many sports fans to see the representation, specifically pointing out how ESPN showed Sam with his partner, sharing a kiss in celebration of the recruitment.
"We're at the beginning of a pretty long journey of beginning to make LGBT people feel comfortable in the sports world."
Fagan said that she felt that even though sports was past outward displays of homophobia and discrimination against the LGBTQ community, there was still risk of systematic discrimination that involved situations such as terminating players for their sexual orientation as well as interacting with the media as an openly gay athlete, and making open players feel welcome in the sport.
Fagan also spoke about transgender athletes. "We still need to do a better job talking about and making sure we're being very inclusive in our language so that we're also talking about transgender athletes. Trans athletes face different kinds of phobias and struggles than someone who's struggling with their sexuality," Fagan said.
She also discussed how future discussions would have to be about defining the different sexes and divisions between men's and women's sports in light of the prevalence of trans athletes.
Jolles continued to speak about how the University handles LGBTQ issues in sports. "The University does a great job in talking about it because it's part of the training that every student athlete goes through at the beginning of the year before fall season starts."
He said athletes are asked to take the National Collegiate Athletic Association Inclusion and Diversity Training, Drexel University LGBTQ 101 and ally training, and that President John A. Fry was constantly trying to improve conditions for LGBTQ students.
As monumental as Sam's recruitment was for inclusion of LGBTQ athletes, Sims maintained during the event that the issues facing LGBTQ athletes have been going on for decades, "When the history of LGBT professional athletes is written, it'll be chapter 10 by the time they get to Michael Sam. We've been doing this for 40 years with professional out athletes."
"What was different about this was his being out before his career had even begun and that is truly unique. …That's more of a rarity than anything else. Not that he's a gay football player. Not that he's out, but that he's out at the beginning of his career," Sims said.
At a question and answer session before the event ended, Fagan lastly commented on the representation of LGBTQ women, stating that although writers will flock to write about LGBTQ issues in men's sports, there is very little focus on the same issues surrounding women's sports compared to every other issue for women's sports. She said there should be more male allies for them. Sims talked about how to create better allies by telling students and athletes that they are role models to improve their behavior.