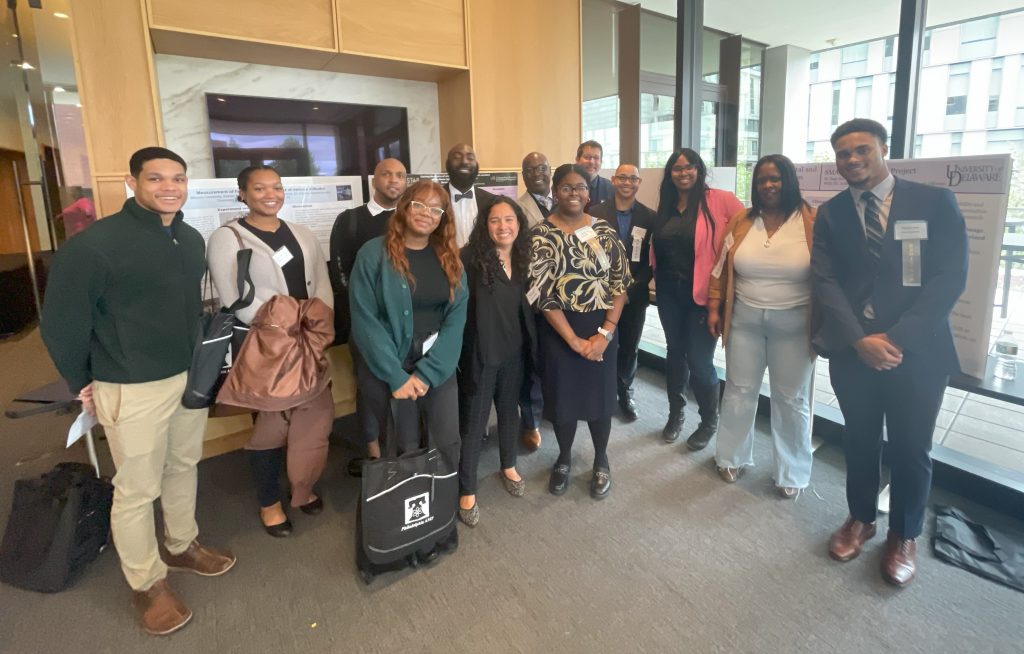 Drexel University was one of several Philadelphia universities to participate in the 21st annual Lewis Stokes Alliance for Minority Participation Research Symposium and Mentoring Conference at The Study at the University City Hotel on Oct. 21.
LSAMP, a non-profit dedicated to assisting STEM-focused college students in their education, hosted a research competition where Drexel undergraduate students, alongside students from other colleges, including University of Pennsylvania, Temple University and Community College of Philadelphia, showed off ground-breaking STEM-based research discoveries they made through the guidance and support provided by LSAMP.
"LSAMP has allowed me to get exposure in presenting my work, gain networks, insight, and feedback, and explore [new] options," said Chandler Turner, a second-year architectural engineering major and Students Tackling Advanced Research Scholar.
The conference also helps Drexel students understand what it is like to present research findings to high-profile individuals.
Dejenae Smith, a second-year biology major and STAR scholar, said, "I don't have a lot of experience presenting, so I think being a part of this conference showed me how to give an adequate presentation."
What draws students to join LSAMP is all the opportunities the non-profit can give its participants that average university departments may not have.
"I've been looking for opportunities to help me as I continue my education, and I found that LSAMP was a good way to network, learn from other people, and [hear their] stories of how they got to where they are," Smith said.
Under the program's guidance, these students quickly get hands-on learning advice from trained professionals. They also have the chance to explore other areas of research that interest them.
"My most prominent connection is with my mentor, and by doing the program, I was able to get an opportunity in her lab to not only work on my STAR project but independent research as well," Smith said.
LSAMP's policies welcome STEM-focused students to sign up and benefit from the program.
"It was not too hard," Smith added. "I think an important thing about LSAMP is how easy it is to get in, so it shows they are not excluding them from the kinds of resources they provide."
LSAMP is also dedicated to keeping a student's STEM interest alive by constantly exposing them to new ideas, research topics and famous researchers they can learn from.
According to Stephen Cox, regional director for LSAMP in the Greater Philadelphia area, "It has been my experience that how students find out about this is really through immersion, because unless you are in an environment where there are scientists or are talking about scientists, your interest is somewhere else."
LSAMP hopes to keep attracting and helping more students grow their research goals and reframe how people view marginalized student groups in STEM.
"If they want to have more students of an underrepresented nature engaged in STEM at their institution, then they need to spread the word," added Cox. "It is an institutional priority that will make this work better; no one individual can change everything, but an educational philosophy can change how we do business."
This conference marks another year of LSAMP, providing an inclusive environment for STEM-focused students to flourish in their research goals. The program perseveres as a prime example of how students with a proper platform can excel and inspire a new generation that success is possible with the right connections and resources.
"Probably the most important thing in terms of pride and a feeling of success is when [alums] come back, who we call the men of honor and women of distinction, have finished their PhDs, who have gone on to teach [and] work in industry, and to [have created] a whole new life for themselves and their communities," Cox said.