In an email sent to alumni Dec. 16, President John A. Fry announced that the Earle Mack School of Law would be renamed, and has since become Drexel University School of Law, reverting to the name originally given to the school when it opened in 2006.
Mack, who graduated from Drexel University in 1959 and served as the United States Ambassador to Finland, donated $15 million to the law program in the spring of 2008. That gift was matched by another $15 million from the University and other donors. According to the email, the Earle I. Mack Foundation and Drexel agreed that these funds were no longer sufficient for the law school to meet its goals.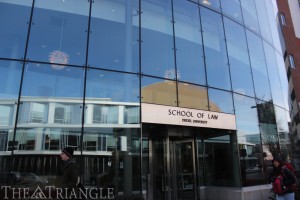 The email states that the problem is due to the poor worldwide economy and decreased enrollment in law schools. Drexel officials declined to comment further.
According to a 2013 Philadelphia Business Journal article, Drexel Law's enrollment dropped from 447 students in 2012 to 411 in 2013. The claims of Drexel Law's students seem to support this theory. "Enrollment in all law schools has been down this year [because] of the economy and law schools are expensive," first-year law student Ray Ashkenazi said. The law school has recently announced a new program, "Fast Forward," that will allow its students to obtain their degree in two years by starting the program in the summer.
According to another first-year law student, Daniel DiRenzo, "Law school [enrollment has] gone down about 15-20 percent nationwide." DiRenzo said he doesn't believe the enrollment difference is significant to Drexel and believes the law school is meeting its goal.
The tuition for a first-year law student at Drexel University School of Law is $40,230, which decreases slightly from year to year, due to a smaller number of credit hours. Students with Drexel undergraduate degrees earn a $1,000 annual scholarship. Ashkenazi said, "The cheapest [law] school I looked at was $17,000 and the most expensive was close to $60,000."
Current attendees of the school are being kept in the dark about the reason or reasons for the name change. "I haven't been told a whole lot about it. … I've heard through the grapevine that [the school] want[s] to use the Drexel name a bit more, maybe get some more donors, but I'm not sure if it's accurate," DiRenzo said. "I kind of like saying that it's Drexel Law. It feels like the school has a closer relationship to the University just by having that name."
Ashkenazi said that she has heard rumors of Mack backing out. Meanwhile, classes continue as usual. The decision to change the law school's name has not affected the students' studies. However, Ashkenazi remarked that she has had to change the name of the school on her resume.