Students who shopped at the Drexel Barnes & Noble bookstore May 4 and 5 had the opportunity to play interactive video games like Dance Dance Revolution as part of the nationwide Konami U Tour.
Konami, the company that also produces games like Glee Karaoke, Pro Evolution Soccer and Def Jam Rapstar, set up consoles and stages for each game so students could play them and compete for prizes. An hourly raffle was also available for those who didn't want to play video games but wanted to add to their Konami U experience.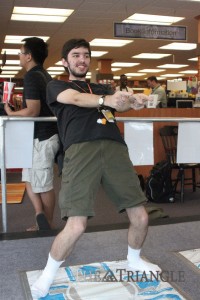 The games were open from 10 a.m. to 5 p.m. May 4, and a Dance Dance Revolution tournament was held from 5 p.m. to 7 p.m. in which the top four winners won prizes totaling up to $400 in Barnes & Noble gift cards.
The winner of this tournament was freshman computer science major Andrew Murphy, who beat six other contestants to win a $250 gift card.
"That equals textbooks. Or, textbook," Murphy joked.
The second place winner received a $100 gift card, the third place winner won a $50 gift card, and the fourth place winner won a free copy of the game.
The next day, the organization held the Pro Evolution Soccer Tournament from 10 a.m. to 5 p.m., and the winner received a free copy of the Pro Evolution 2011 video game.
On both days, students could play any of the video games and enter the raffle.
Senior business administration major Kevin Moy was one of those students, as he played Dance Dance Revolution and later found he won one of the hourly raffle draws. His prizes included a soccer stress ball, a ping-pong ball, a can holder, a bottle opener and cards for free music downloads.
According to Melisa Darga and Charlie Hunter, two assistant tour managers for the Konami U Tour, the scores of individual students are tallied up to create Drexel's overall score.  The official winner of the tour will be determined in November 2011, with the winning school earning bragging rights.
The tour started March 28 at Texas Tech University. Schools were chosen based on availability, interest, affiliation with Barnes & Noble and attendance.