One of the most important tactics when searching for an internship is to tune out anyone who says that you can't do it, according to Lauren Berger, the Intern Queen, who spoke to Drexel students May 22 in the Sky View Lounge of MacAlister Hall.
The event was hosted by the Campus Activities Board to promote Berger's book, "All Work, No Pay: Finding an Internship, Building Your Resume, Making Connections, and Gaining Job Experience."
Any student who hears "15 internships in four years" would think it was an impossible task. However, Berger trumped the impossible and completed 15 internships during her four years in college. They don't call her the Intern Queen for nothing.
Berger began her journey at Florida State University and later the University of Central Florida. She had only three things on her mind.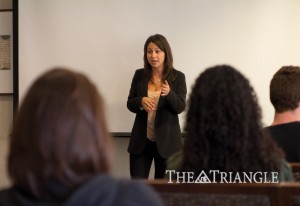 "I wanted to go to Florida State because I wanted to get drunk, go to parties and go to football games," Berger said.
Through the encouragement of her mother, Berger looked into getting a communication internship for the spring semester of her freshman year. She was quickly discouraged at the career center, having been told that she would only get her dream internship at Us Weekly magazine as a college senior.
Berger took the initiative to prove the career center wrong and go against all odds. She searched the Internet for public relations internships and snagged herself one at the Zimmerman Agency, a national advertising agency located in Tallahassee, Fla.
"The nice thing about our generation is that when people tell us 'no,' we like to say 'yes,' … and we like to do things on our own," Berger, who was named No. 5 on BusinessWeek magazine's list of Young Entrepreneurs 25 under 25, said.
Berger encouraged students that getting to their dream job requires stepping stones, which was what the Zimmerman Agency was for her. Freshmen may not have as much experience as juniors or seniors, but if they show initiative and drive, companies will want to hire them.
One of the ultimate deciding factors that earned Berger the job at the Zimmerman Agency was that she sent her resume to the internship coordinator the same night she had spoken to the coordinator on the phone.
"Did I have any experience? No. I worked at the Red Lobster and the Limited Too," Berger joked.
Additionally, Berger gave students interview tips to help them with interviews, such as dressing correctly. She said that students can be trendy but must stay in the lines of conservative.
"You want to be hired for your professional qualifications and nothing else," Berger said. "You don't want to be too trendy at the initial interview. Remember, it's you who is getting the job, not your clothes."
She said the cherry on top of an interview is to send the interviewer a handwritten thank you card, adding a personal touch that will help students stick out in the interviewer's mind.
Berger continued that students should constantly check in with their internship advisers, or in Drexel's case, co-op coordinators, to stay up to date.
"I always say I treat my career center like I'm supposed to treat my hair stylist. … You guys need to go see your career counselors every six to eight weeks," Berger said. "You have to go consistently. … You have to have a plan and then continue going. Your mindset should be, 'This person has relationships for me.'"
After obtaining that first internship, Berger had what she refers to as a "click moment," tarnishing her initial mindset of partying. This epiphany transformed Berger into a professional individual who was motivated to climb the career ladder to the top.
"Being in this professional environment really changed me from the inside out," Berger said. "So, after the first internship, I wanted to do more."
A key factor when looking for an internship is to be vocal, Berger said. If you want something, you have to tell people what you want so you can find the resources to get it. But you have to know the right people to talk to.
Berger had her mind set on New York City, so she contacted the internship coordinator at the Zimmerman Agency, using that connection and persistent phone calls to land herself an internship at Back Stage magazine.
Students who struggle to find internships should not get discouraged from rejection, Berger said.
"You are going to get rejected for the rest of your lives," Berger said. "Rejected! Is that cool or what?"
Berger coached students to simply "get over it" because when one opportunity disappears, another will present itself.
Internship coordinators and employers are not the only connections available to students. It is important for students to network with their fellow interns, Berger said.
"Cultivate those relationships because it's those people at your co-ops, at your internships, who will be growing in your career with you, and those are the relationships you're going to want," Berger said.
Featured in Berger's book is the "Intern Queen dream list," which allows students to organize and prioritize the internships they wish to obtain. The list provides students a convenient way to keep dates and contacts together, which Berger suggested students utilize.
It was these tactics that eventually got Berger an internship in Los Angeles. While there, Berger juggled multiple unpaid, part-time internships and waitressing. According to Berger, she strategically scheduled each internship around the other.
"I'm not rich, and I'm not a superhero, but I was able to make it work," Berger said. "So it is possible to do all of these things and succeed."
Through sheer luck, Berger described finding the business card of Ken Baker, E!'s chief news correspondent, underneath a desk while interning at BWR Public Relations. At the time, Baker was the West Coast editor of Us Weekly magazine, Berger's dream job. Berger was eventually granted an internship with Us Weekly magazine. She reached the goal she had set for herself her freshman year of college.
Things only went uphill for Berger. Berger said she landed herself internships at MTV Radio, FOX and NBC, interviewing celebrities such as Reese Witherspoon and Rachel McAdams.
For more information, visit internqueen.com and pick up a copy of Berger's book.