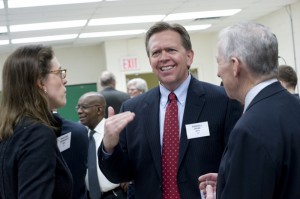 The newly created Division of Enrollment Management and Student Success will oversee the Student Lifecycle Management initiative, announced in January 2014. Future Senior Vice President for Enrollment Management and Student Success Randall Deike, currently the vice president for enrollment management and institutional research at New York University, will oversee many offices, including the Steinbright Career Development Center, Student Affairs and Institutional Research, according to President John A. Fry.
"We're enrolling alumni, not freshmen," Deike said about the Student Lifecycle Management initiative. "We want to make sure we're enrolling students who have the academic profile, who would be able to do the work in the particular program they're interested in, but also for whom we think the institution would be a good fit."
The Student Lifecycle Management initiative includes 10 committees within the University, working together to improve the overall student experience. This approach differs from similar programs at other universities in its wide scope, involving task forces to target recruiting, admissions, orientation, retention, student advising, tuition and billing.
This change in philosophy comes after a period of volume-based enrollment initiatives at Drexel, which drew many applicants but few actual students (35 new applicants for each additional student). Even fewer students went on to graduate within six years (about 68 percent).
"Definitely going through even just four years at Drexel, you start to get a lot of friends who drop out or transfer," Alissa Falcone, a fourth-year English major, said. "I am an honors student and a lot of my friends are, so it's not really an issue of grades for the people that I've met. Mostly it's a problem with finances."
The new recruitment strategies will start with early outreach to elementary and junior high schools in the area to build a relationship between prospective students and the University. According to Deike, this strategy's purpose, while likely benefitting Drexel, is mainly to inform young students that college is a possibility for them.
The initiative also aims to institute a more holistic process for considering applications. The goal is to increase retention rates to 80 percent, according to Fry. Applications are already being considered differently for different programs, which previously was not the case. This is in an attempt to ensure that each student will be successful in his or her chosen discipline. Deike said that this should not limit the ability of students to change majors.
"Our goal is to help students be successful at Drexel, to help them finish their degree at Drexel and be successful alumni," Deike said.
One of the improvements already put in place is the transition from a yearly billing cycle to a quarterly one after students and parents expressed frustration with the old model.
"As far as individual billing by term, that would have been immensely helpful," Falcone said. "I was thinking about graduating earlier this year, in winter term, but I had already paid for my whole year of tuition."
Other tuition and aid changes include the projected expansion of need-based scholarships to cover 40 percent of student need. Drexel's extensive merit-based scholarship opportunities will continue.
"The focus on students is really how I feel things should work at a place like Drexel. There is a significant level of support from [Fry] and the board of trustees to make sure that Drexel is providing the best experience we can for students, and I'm really excited to get started," Deike said.
Deike will begin his work in the Office of Enrollment Management and Student Success at Drexel Sept. 1.