Drexel University and the Democratic City Committee presented the last of the Pennsylvania gubernatorial primary debates May 12 in Mandell Theater.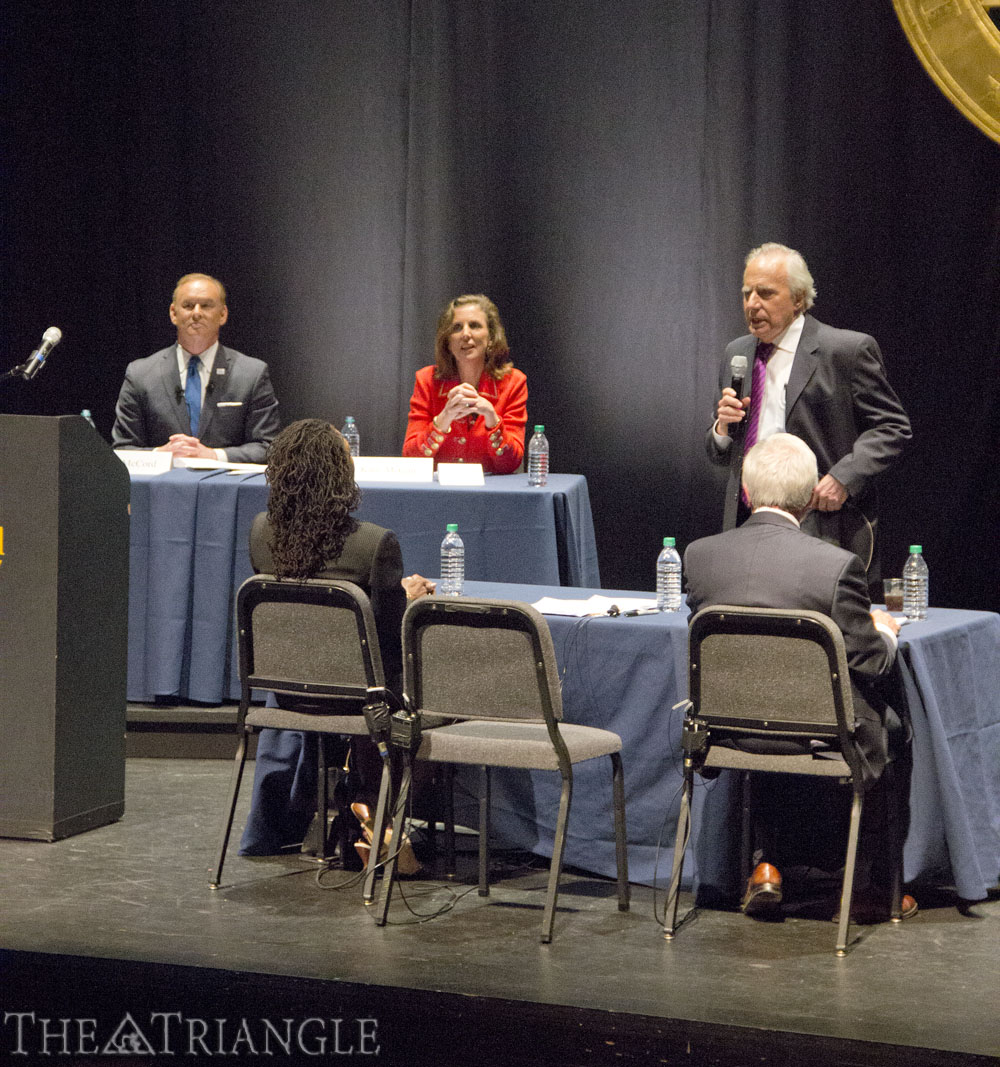 Candidates Rob McCord, Katie McGinty, Allyson Schwartz and Tom Wolf are vying for the Democratic nomination to take on Republican incumbent Gov. Tom Corbett. The debate was moderated by Larry Kane, and questions were presented by John Baer of the Philadelphia News and Sandra Dungee Glenn of the American Cities Foundation.
Drexel President John A. Fry and U.S. Rep. and Chairman of the Democratic City Committee Robert Brady opened the event with welcoming remarks. Kane then went over the rules of the debate, maintaining that he would keep time equitably but forcibly for the candidates to respond to questions.
According to Kane, the debate was aired live on 23 TV stations and nine radio stations statewide, making it the most broadcasted debate thus far.
Education funding and improvement was a prevailing topic of the debate. Candidates also discussed government corruption, poverty, hydraulic fracturing of the Marcellus shale, methods of leadership, race, and job creation.
Though all candidates said that they would support whoever was selected for the Democratic nomination, McCord and Schwartz took turns attacking Wolf for alleged racist activity and inexperience in political leadership. McGinty kept her attacks focused on Corbett.
In one statement, McCord said, "My friend Tom Wolf failed the leadership test, then failed to discuss it for 13 years, then failed to answer a question in an open forum. I believe the people of Pennsylvania need somebody who will run toward the hard questions and frankly somebody who will stand up to them, and finally somebody who will address race issues because you know and I know race issues run like a river through public education."
Wolf has been accused of racist behavior for backing former York Mayor Charlie Robertson in 2001, even after homicide charges were brought against him due to his involvement in 1969 race riots.
Schwartz said, "This is serious. We need a governor who will say they will not tolerate corruption and that will set a very high ethics standard," in response to a question about a former statement of hers that also accused Wolf of failing the leadership test.
Just before Schwartz said this, an audience member interrupted and took the stage.
"You candidates have all failed the leadership test," she said. "We want to know why you're not answering Pennsylvanians' questions about fracking. This is a list of 1,700 families who have been harmed by fracking. This state Democratic Party supports a moratorium on fracking. Why won't you good candidates answer these important questions? These are affecting our lives. We can't fund our schools on a boom-and-bust industry. This is a failed funding formula that is poisoning our state and ruining our chance for a strong economic future."
As she was escorted off stage, she asked for the candidates to read the list she held of families affected by fracking.
Schwartz said she appreciated the passion of the activist.
The audience member was later identified as Liz Arnold, who was working in coordination with the Pennsylvania Voters Against Fracking and the Food and Water Watch Fund, the political arm of the Food and Water Watch in Washington, D.C.
In response to Arnold's disruption, Senior Pennsylvania Organizer at Food and Water Watch Sam Bernhardt said, "Members of Pennsylvania Voters Against Fracking have hand-delivered information about the dangers of fracking to the candidates. We have had countless handshake conversations asking to meet to discuss our concerns. We have held signs outside their forums and campaign events. [Monday] night's action was the result of a steadily escalating campaign calling on the candidates to do what's right by supporting a statewide halt to fracking."
Bernhardt said that protesters were there for hours before the debate under the banner Pennsylvania Voters Against Fracking.
"We decided we would put a pledge to the candidates saying, 'Now is your opportunity to stand with the people of Pennsylvania, to stand with the Democratic Party of Pennsylvania,' which last year passed resolutions supporting this position," Bernhardt said.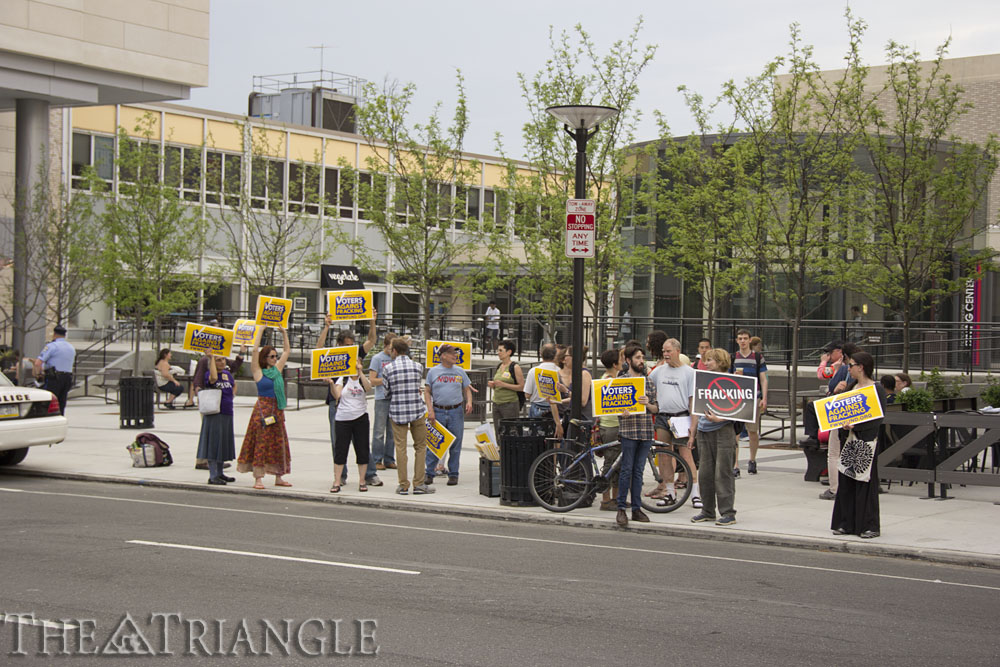 Standing next to three file boxes full of petitions, Bernhardt continued to explain that the group has collected 8,000 signatures in fewer than seven weeks from voters around Pennsylvania that said they were against the process of hydraulic fracturing.
Karen Feridun of Berks Gas Truth said, "This is the grand finale of the debate season anyway, and we wanted to make a grand showing and tell [the candidates], 'We're serious, we're not going away. Even if you don't sign the pledge before the election, even if you don't change your position during the general election, one of you is going to win, and we're going to be all over you like New Yorkers are all over [New York Gov. Andrew] Cuomo.' Gov. Cuomo meets protesters everywhere he goes because those people want their moratorium to stay in place just as we want to have ours."
Members of the Drexel community and the Greater Philadelphia area as a whole stood with signs calling for a moratorium on fracking.
Among them was pre-junior civil engineering major Adam Bleiman, who said, "The only way really at this point to let the anti-fracking movement's voice to be heard is to tell the Democratic primary candidates. That's the only way we're going to influence any policy at this point. They're only going to be answering to what the public says, so this has to be the public voice."
When Arnold was removed from the stage, Kane commented, "Free expression is one thing, but inappropriate behavior is another," and the debate continued. Shortly after, candidates delivered their closing statements and agreed to a "unity lunch" with Brady after the primary election.
According to Keech, 307 people attended the debate.
Keech said, "The Philadelphia Democratic Committee was provided tickets for the ward leaders through the City of Philadelphia. Drexel students, faculty and staff were offered the opportunity to attend through an online registration process, and the tickets were distributed on a first-come, first-served basis. The four candidates were each provided tickets for their staff and guests, event sponsors were offered tickets, and the University's board of trustees was invited to attend."
Senior history major Zachary Cohen volunteered, along with many other student volunteers working that night, to sign in media personnel. "I get to hand out credentials to the press and make sure they have their tickets and know where they're going to interview candidates both before and after the event itself. The deal out of volunteering was that I got a ticket to the event too, so I'm very excited to watch."
Cohen learned of the opportunity through professor Richardson Dilworth's State and Government class.
Nick Kachur, a sophomore computer engineering major, also learned of the opportunity from a professor.
"I got an email from one of my honors professors, someone that I like working with, and I already wanted to come to the debate and we were offered a guaranteed seat, so I thought I'd volunteer," Kachur said.
Overall, Keech regarded the debate as a success. "Debates provide a wonderful opportunity to inform our students, faculty and staff as well as all citizens about candidates seeking public office, and they also serve to preserve a civil society, the foundation of our democracy," he said.
The primary election will be held May 20.