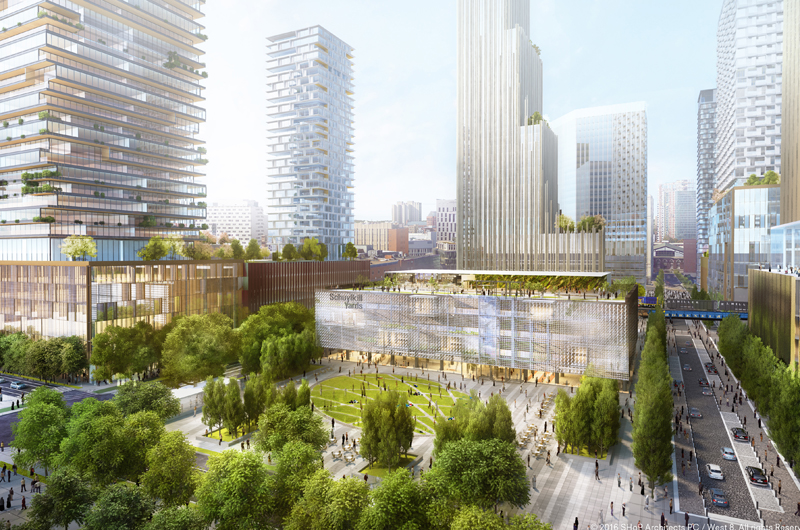 Drexel University and Brandywine Realty Trust broke ground on the Schuylkill Yards project at 3001 Market St. on the morning of Nov. 8, which marked the beginning of a $3.5 billion, multi-year project.
The first portion of the project due to be completed is Drexel Square, a 1.3 acre park, which is set to open in the fall of 2018. Located on the corner of 30th and Market Streets, Drexel Square will include green space, granite benches, outdoor furniture and 30 dawn redwood trees. The square is going to be designed by SHoP Architects and West 8 Landscape Architects.
"All great cities have great public spaces. Drexel Square will be Philadelphia's next signature square — a sixth square adding to the five originally created by William Penn. Drexel Square is the keystone to the large transformative development project at Schuylkill Yards, conceived by Drexel University and brought to life through a partnership with Brandywine Realty Trust," John A. Fry, president of Drexel University, said to Philly Voice. "Drexel is proud to have chosen Jerry Sweeney and his team at Brandywine for this project that will benefit all of University City and Philadelphia."
The project also includes a redesign of the former Bulletin Building, also known as One Drexel Plaza. Additionally, two new towers will be built on 3003 JFK Boulevard and 3025 JFK Boulevard. Overall, in the first phase of development, 4.6 acres of space will be created for business, retail and residential space, educational facilities, offices, public space and research labs.
The entire project, which is scheduled to be completed within 15 to 20 years, covers a total of 14 acres, 6.5  of which are dedicated to green space and improved street space.
"Today we take the first steps in making this large-scale innovation community a reality. As Brandywine continues to expand the West Philadelphia skyline, we do so with a forward-thinking, inclusive approach to the future. We embrace the changing habits of how people are living, creating, working and spending their time. We are proud that our first project in Schuylkill Yards will deliver a green public gathering space where community can connect, interact, and share experiences," Jerry Sweeney, president and CEO of Brandywine Realty Trust, told DrexelNow.
Along with undertaking the Schuylkill Yards project, Brandywine has pledged to invest $5.6 million in a neighborhood engagement program which is meant to provide job creation, affordable housing and small business development.
Fry, who is also the [resident of the Philadelphia Chamber of Commerce, is hopeful that Amazon will choose to locate their new headquarters in Philadelphia, more specifically at Schuylkill Yards.
"If we are lucky Drexel Square may one day soon be a gathering spot for thousands and thousands of Amazon employees," Fry said to Curbed Philadelphia.
The city of Philadelphia submitted its proposal to Amazon in mid-October, where Schuylkill Yards is one potential location mentioned for the $5 billion headquarters.
"Schuylkill Yards is one of three sites we highlighted in our proposal to Amazon for making Philadelphia home for the second headquarters. It's located in University City in a world-class innovation district, adjacent to downtown and surrounded by top-rank universities that continue to produce top talent. Anchored by the third busiest train station that's getting a major makeover, this site has everything that Amazon would be looking for," Mayor Jim Kenney said at the groundbreaking.
More information about the master plan for Schuylkill Yards can be found here.