Two Drexel students launched their new lifestyle app, goPuff, on the Android and the iOS platforms Oct. 16. This app was created by co-founder junior business majors Rafael Illishayev and Yakir Gola for their delivery company, a retail and wholesale company that specializes in hookahs and hookah supplies. The app also includes categories such as college essentials, hookah accessories, munchies and more.
There is a $1.50 delivery charge added to the bill, which is payable by cash or credit, according to Illishayev. The company is open for deliveries seven days a week from noon until 4:20 a.m.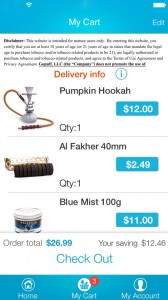 "This idea started in Russia. I'm Russian, and this idea started off expanding the college experience for students and getting everything for them in a convenient manner. College students at, say, 10 [p.m.], can't get their hookah supplies. Ninety percent of college students don't have cars, and at 2 [a.m.] everything is closed. So we thought, to make it more convenient, let's make an app that can do this. It expanded to everything that a college student needs, to condoms, to party cups. We recently got 180 cups with shots at the bottom," Illishayev said.
According to Illishayev, the cups were invented by Solomon Falls and introduced on the show "Shark Tank" and are now sold by goPuff in the Philadelphia area. The 180 cup is a cup that, when flipped over, has a compartment for shots of drinks as well.
GoPuff also has services in providing hookahs to clubs in Philadelphia for a commission to the club for their older patrons.
"This app has been in Philadelphia for over two weeks now, and it's growing and growing, little by little," Illishayev said. Before their retail services, goPuff was a wholesale company. According to Illishayev, however, they are moving toward expanding their retail end of business and expanding this service to three other cities within the next two months.
"We have a factory in [New] Jersey accepting all the shipments from China. We have shipments from China, Egypt, Syria, Saudi Arabia and America," Illishayev said. It is from this same facility that they make shipments to areas outside of the delivery zone. According to their website, goPuff will send deliveries outside of their zone through FedEx. For deliveries within the delivery zone, such as the Philadelphia area, all deliveries are said to be less than 25 minutes. Any deliveries over that limit, according to Illishayev, will be accommodated for with other free merchandise.
GoPuff delivers to all students in Philadelphia, including at Temple University and the University of Pennsylvania. The popularity of the company was driven by Facebook, using a jewelry store app that the founders had made previously to generate likes.
"We took all of our products and we took the prices of those products at the lowest margins, which is eBay and Amazon, and not only did we price smash them, but we also cut them by 10 percent. So not only are our items available on delivery, all of our items are cut by our cheapest competitors. We are by far the cheapest on the market," Illishayev said.
When going on deliveries, drivers follow a script, asking customers where they heard of goPuff, and they report this information back to the office. When Illishayev took a delivery and answered the door with a customer's orders, the customer said, "This is such a great idea. I'm definitely going to be a repeat customer."
The app also allows for a loyalty points system, awarding points to customers as they order more from the app, which can equate to other products. According to Illishayev, most of the orders have actually been during the week as opposed to the weekend. Any tobacco-related products must be signed for to prove that the buyer is of legal age. It should be noted that the University Code of Conduct prohibits the sale of any tobacco products on campus and also bans the smoking or carrying of lighted tobacco products in Drexel buildings, including residence halls.
"I think it's a good app because people need stuff late at night. It's a really good app because sometimes you don't want to walk all the way to 7-Eleven, and getting stuff within 25 minutes is really good," Sahil Bangera, a sophomore biology major, said. "It doesn't really matter whether it's during the week or the weekend. It's just that smoking hookah — it's on your mood. So, when you're tired and you had a tough day, you just want to smoke some hookah and ease out."