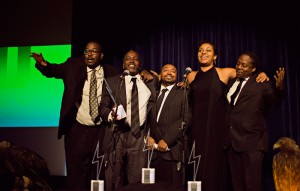 Geekadelphia hosted the fourth annual Geek Awards at the Academy of Natural Sciences of Drexel University Aug. 16. The sold-out awards show celebrated the Philadelphia geek community and its contributions toward building a better and more united city.
Drexel was featured in two of the 13 awards categories. Freshman engineering students were nominated for the "story of the year" category for their attempt to break a Guinness World Record to construct the largest Rube Goldberg machine back in April.
Fashion design professor and Director of the Shima Seiki Haute Technology Laboratory Genevieve Dion and Academy of Natural Sciences paleontologist Ted Daeschler were both nominated for "scientist of the year." Daeschler was nominated for discovering a transitional fossil in the evolution of fish into land-dwelling tetrapods in January and Dion for her work in creating "wearable technology" in May.
The freshman Guinness World Record attempt ultimately fell to the story of Paine's Park, a skate park that was established after 11 years of planning, a Kickstarter campaign and much community support. Daeschler's discovery fell to Dion's innovation, as she walked away with the lightning bolt trophy.
Dion has explored textile creation using digital fabrication and computerized knitting machines that may result in garments that could store energy or monitor vital signs in the wearer — perhaps even fetal movements in pregnant wearers. In her acceptance speech Dion said, "To bring design that can inform science, that is near and dear to my heart."
The Geek Awards also included predictably geeky award categories, such as "comic creator of the year," "web project of the year" and, of course, "geek of the year." Nevertheless, the overarching theme of the awards was not celebrating all things geeky, but recognizing the geek community's efforts to improve their surroundings. Whitney Nelson, the girlfriend of one of the event's producers, explained, "It's not about being geeky; it's about being passionate."
Kid Hazo was one such individual recognized for his passion to change Philadelphia for the better. His satirical street art designed to elicit smiles from Philadelphians earned him a nomination for "visual artist of the year." One of his more notable projects was a whimsically oversized replica of a parking ticket that he placed on the windshield of a Philadelphia Parking Authority car.
Other nominees took a different approach in their mission to better Philadelphia. Benjamin Volta, who actually won the "visual artist of the year" category, used art to introduce Philadelphia students to science. In creating the mural "We Are All Neurons," Volta's students explored brain mapping and learned that people are all connected to each other through the past.
The winners of the "event of the year" also explored the past in their Funeral for a Home project, which celebrated the storied past of a house marked for demolition. Germantown, Philadelphia resident Molly Hayward, on the other hand, decided to make a difference abroad. Her business, Cora, which won "startup of the year," offers a monthly subscription service of feminine products, and for every subscriber they also ship a month's worth of products to girls in developing countries.
From start to finish, the event was studded with eccentricities and attractions to entertain guests. Upon arrival, for example, guests walked the red carpet to the jaunty music of an accordion player. Once inside, guests could explore the entire museum, including the Butterfly Room, Dinosaur Hall and various animal dioramas. The Academy staff members wound their way through the crowd, showing off animals such as a live python and an African pygmy hedgehog.
While snacking on the light vegetarian cuisine provided, guests could pose for pictures with the photo booth or try the Academy's various interactive exhibits. Finally, the night concluded with an after party at North Bowl, where guests could socialize and enjoy the bowling alley's famous tater tots.
More intriguing than the featured attractions were the guests themselves. The awards show was a black tie affair, so many guests dutifully showed up wearing suits, tuxedos or gowns. Others accented their outfits with plumes of feathers or LED lights in the styles of geek chic. One person even wore a squid dress, akin to Bjork's swan dress at the 73rd Academy Awards.
Most guests were self-proclaimed geeks, but they came from diverse professional backgrounds. Amid the software engineers and web developers present, there was also a burlesque dancer, a taxidermist and a science fiction writer. Tracy Levesque of the web design and development company YIKES Inc. appreciated the opportunity to socialize and network with the diverse milieu at the Geek Awards. "I think it brings everyone together in a really fun and fancy way," she said.
E.C. Myers is a young adult science fiction writer who also enjoyed the connectivity fostered by the Geek Awards. "I think it's really great that Philadelphia has such a vibrant community that uses their skills to have an impact on other people's lives, whether it's for entertainment or something more meaningful like social change," he said.
While Geekadelphia recognizes how people's innovations impact Philadelphia, it also acknowledges the city's impact on the geek community. Eric Smith, cofounder of Geekadelphia, wrote in his recap of the Geek Awards, "Thanks again Philadelphia. You make this a great city to be a geek in."