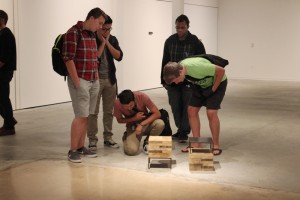 The Leonard Pearlstein Gallery, in the URBN Annex Building, held an opening ceremony Oct. 9 for the new Bill Walton "artist to artist" exhibition. Curated by gallery director Orlando Pelliccia, the gallery featured 38 pieces by the late artist, all of which were either given, traded or entrusted to other friends and artists by Walton himself.
Walton, who died in 2010, was educated at the Institute of Design in Chicago and moved to Philadelphia as a commercial printmaker in 1964, later becoming an instructor at Moore College of Art and Design. Printmaking had introduced him to the materials such as wood, iron and steel, which he incorporated as the focus of his sculptures.
One of the gallery visitors, Heidi Nivling-Becker, had met the artist before 1970 and worked on several projects with him. "The only way to understand the work is to be with it," Nivling-Becker said. She further described "magnetism in the materials" and that it was "a lot about the way the things sit on the surface of the earth."
She also recalled a profound statement made by Walton to her regarding the essence of art: "There must be some way to make an indication of the things you can't describe."
Another friend of the late artist, Harry Anderson, taught at Moore College alongside Walton. He added that the artist was "so serious and so intellectual about everything and the way he thought" and that his approach to art was incredibly collaborative and encouraging.
Walton's work was described as unique in its philosophy. For example, he never dated his work because he had felt that everything continued to evolve with time. He would often alter a project, even after he gave it away. Dubious of artistic boundaries, Walton also challenged norms by looking past details of art such as size of the piece, which he considered relatively unimportant compared to the feeling of the work itself. This translated into each piece's simplicity in appearance and modesty in size.
Due to the perspective that the significance of the art was in the nature of its materials, as well as the small scale of Walton's works, information cards that may draw attention away were not placed by the pieces. Rather, visitors were provided with a packet detailing the materials of each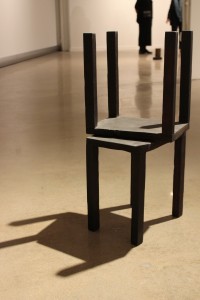 piece in the gallery.
After the event, gallery coordinator Leah Appleton reflected on the opening ceremony as a wonderful reunion for those who knew and worked with Walton and also as a relaxed, community-oriented presentation, since the artist had contributed so much to the art culture of Philadelphia.
Appleton added that the gallery is planning to expand with the addition of a new interactive media component: CultureSpots, a free mobile audio tour platform that would enable smaller galleries to enhance visitor experience. Set to launch Oct. 22, this addition will greatly add to the visitor's understanding of Walton's works and interpretation of his artistic vision.