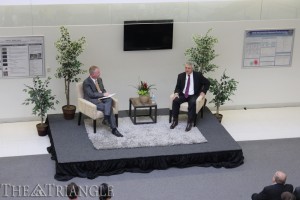 College of Engineering Dean Joseph Hughes and former Colorado Gov. Bill Ritter hosted an event April 8 in the Bossone Research Center to discuss the United States's transition to a clean-energy economy. Around 100 students, professors and local politicians assembled to listen to Ritter speak about clean-energy policy, followed by a question and answer segment.
Elected as the governor of Colorado in 2006, Ritter now works as the director of the Center for the New Energy Economy at Colorado State University.
Ritter said that one of the major challenges of converting to clean energy is getting people to realize the future benefits of a clean-energy economy — a position supported by President Barack Obama. Ritter mentioned that in Obama's 2011 State of the Union address, the president said that he wanted the country to have 80 percent clean energy by 2035.
"This is, I think, the most important thing for my kids' generation," Ritter said, reminding the audience that the type of energy used today greatly impacts tomorrow's world. "We need to get middle-class Americans to a place where they think about energy issues."
During Ritter's time as governor, the state rose to the forefront of the clean-energy transition in the United States. Colorado managed to increase the amount of wind power in the state tenfold while simultaneously decreasing the price of the state's energy by a third.
Freshman mechanical engineering major David Fender said, "It was good to hear a politician's view about where we're going in the future in terms of energy."
Hughes, the man behind bringing Ritter to Drexel for this talk, said he hopes that Pennsylvania can follow in Colorado's tracks in terms of clean energy. He brought Ritter in to speak so that the student body would have the opportunity to hear one of the nation's leading experts on America's transition to clean energy.
"[Philadelphia] is right at the heart of the natural gas industry that's coming to the United States. Pennsylvania has one of the largest natural gas reserves in the country today," Hughes said. "Some people are suggesting that Philadelphia could become Houston,"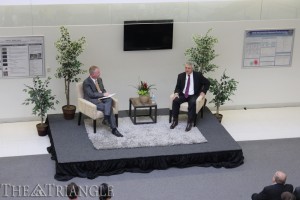 Hughes continued, comparing Philadelphia's position to that of a Texas city that has recently benefitted economically from the natural gas boom.
"This community looks to Drexel as a driver of economic development in the city," Hughes said, revealing the importance of the University's activity in the clean-energy movement.
Drexel has a number of faculty members working on energy storage, a type of renewable energy. The University is currently working on creating their own energy using basic fermentation processes with algae as well.
"We've moved from an area of scarcity and volatility to a period of reliable energy, and [the current students] will be stewards of that and the earlier [they're thinking about it, the better it will be]," Hughes said.