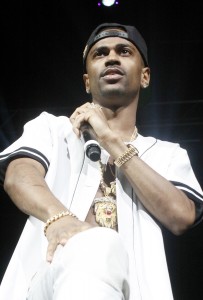 Dragon Concert Series announced Sept. 4 that hip-hop artists 2 Chainz and Big Sean will co-headline the inaugural Drexel Fall Fest. Supporting acts are still to be determined.
Fall Fest will take place Oct. 4 in Lot F, where Spring Jam has been hosted the past two years. It will act as a replacement for both Midnight Madness and the Homecoming concert, typically organized by the DAC Pack and Drexel Traditions, respectively.
Senior entrepreneurship major and director of the Dragon Concert Series Ben Melman explained, the Dragon Concert Series has assisted in the production of each concert since Homecoming 2012.
Senior political science student Ann Marie Hager, has mixed feelings on the concert merge.
"I think the artists are good, but I feel like I'm getting the short end of the stick," she said.
Hager continued, "It's like we were getting two concerts in the fall and winter, and now there's only one. I somehow always ended up being available for Homecoming but not Midnight Madness, so I wonder how it might affect attendance."
However, Fran Pantano, pre-junior electrical engineering major, expects the concert to be better than those in the past. "Usually the concerts aren't too exciting, but combining the concerts into one is a great idea, especially bringing in a name like 2 Chainz. I'm definitely buying tickets," he said.
Though this is the first time Drexel will host Fall Fest, Melman expects the show to sell out.
"Typically our capacity has been 3,000 every year, and we've sold out the Armory every year since Snoop Dogg [in 2012]. So this year, we're going to increase the capacity to 7,500," Melman said.
He explained that Lot F can technically hold 9,000 people, but the Dragon Concert Series has decided to cap the event at 7,500 for security reasons. Fall Fest is expected to be the largest concert that Drexel has ever hosted.
According to Melman, Dragon Concert Series also explored the potential of hosting Kendrick Lamar, Wiz Khalifa, Skrillex, and A$AP Rocky. Melman explained that the committee also sought numerous electronic-dance-music acts, but were limited due to radius clauses that prohibit an artist playing within 90 miles or 90 days of previous shows such as Made In America and Electric Zoo.
Ultimately, they secured the hip-hop acts through connections with 2 Chainz's manager and Big Sean's agent.
"Last year we tried to get 2 Chainz for Homecoming and we were very close; we were working with his agent. We submitted an offer that was a little shy of where they wanted us to be and they said no. So we went to the drawing board and put together the show we had last year at Homecoming," Melman said.
Melman explained that he ended up meeting 2 Chainz's manager through the start-up for which he is working, called Booksmart — a cloud-based tour management service that aims to make live entertainment contracting more efficient. Consequently, this year Dragon Concert series worked directly with management and was able to book the artist.
He continued to explain that the Dragon Concert Series approached the DAC Pack's Midnight Madness organizers with an idea of a combined concert to bring in
more recognized talent than what had been brought to Drexel in the past.
"Some were on board, some of them weren't. Finally we were able to talk them into doing it and the big thing was we wouldn't have a basketball component to the show anymore," Melman said, as the Midnight Madness typically celebrates the start of the basketball season.
Melman said the Midnight Madness organizers eventually agreed and they submitted a budget application for the merge to the Student Activity Fee Allocation Committee in April.
According to Tyler Brennan, pre-junior accounting and marketing major and president of SAFAC, the Dragon Concert Series initially requested $250,000 from SAFAC. They estimated $70,000 from ticket sales and $3,000 in CAP funding, for a total budget of $322,000.
Of that $322,000, the Dragon Concert Series expected $140,000 to be used for artist booking, $140,000 for production, $38,500 for University expenses, and $3,500 for concert expenses. SAFAC awarded Dragon Concert Series $159,000.
Brennan explained that, "based on the above breakdown, SAFAC fully funded the artist booking, University expenses and concert expenses. Based off of previous knowledge of the event venue, the $140,000 was not justified to be used for the one production cost for one concert."
SAFAC compared the production costs to previous concerts and noticed they were usually estimated at $25,000. Accordingly, SAFAC awarded the Dragon Concert Series $50,000 for production.
"In order to be consistent with standard student organizations, SAFAC took out the estimated revenue and considered it as a source of fundraising," Brennan said. This means that the Dragon Concert Series is responsible for the $70,000 in ticket sales and $3,000 in CAP funding, leaving the concert with a budget of $159,000.
Each year, SAFAC receives $150 from each undergraduate student at Drexel, resulting in an estimated total of$1,725,000. From this budget, SAFAC then decides on funding allocations for all recognized student organizations on campus by reviewing individual funding applications based on guidelines and policies it has put into place.
According to Brennan, it took approximately three weeks to determine a final budget for Fall Fest. SAFAC also waited to hear a budget pitch from the Midnight Madness committee, which, according to Melman, also requested funds for the typical Midnight Madness concert as a section option.
"Our pitch was, we're doing this with Midnight Madness, if this doesn't work out, we'd like to go back to two shows," Melman said.
When SAFAC refused the Dragon Concert Series the initially requested $250,000, Melman said that they asked if they could forget the idea and return to the typical Midnight Madness and Homecoming concerts instead. In the past, the combined totals of Midnight Madness and Homecoming concerts neared $210,000.
"In the past two fiscal years, fiscal year'13 and fiscal year'14, Midnight Madness has gone into deficit, which is another factor that played into SAFAC following through with the request to merge the concerts," Brennan explained.
He continued to explain that the $50,000 that would have, in years past, been budgeted for concerts was allocated to over 200 other student organizations on campus.
"It is not in SAFAC's mission or scope to fully fund every student organization and initiative on campus, but rather to act as a subsidizing source to further enhance the student experience."
Tickets will be $10 for students and $30 for guests. The doors will open at 6 p.m.