Five Drexel students were recognized at a reception Jan. 17 for their designs that were chosen to be printed and installed on the Herman Miller Hub at the Library Learning Terrace at 33rd and Race streets.
Lauren Poole, Soha Qadir, Gerre Mae F. Barcebal and Danielle Rowan, all sophomore graphic design majors, were among the ones honored, as was Seth Fowler, a sophomore product design major.
This past winter term, roughly 55 students created two to four designs each, totaling over 100 designs made for the dividing screens and the large stationary hub at the Library Learning Terrace.
The students, all from Typography I classes in the Antoinette Westphal College of Media Arts and Design, used online templates to create the compositions. According to assistant professor Shushi Yoshinaga, the library provided the students with a list of suggested words, including "communication," "leadership" and "environment," to use as inspiration for their designs. These words were meant to describe Drexel's learning outcomes and the libraries.
On Dec. 6, a selective group of people chose which designs were to be printed for the terrace, including Dean of Libraries Danuta A. Nitecki, Director of Library Administrative Services Lenore Hardy, Yoshinaga, and assistant professor Julia Colton.
Yoshinaga notified the winners by email Dec. 9.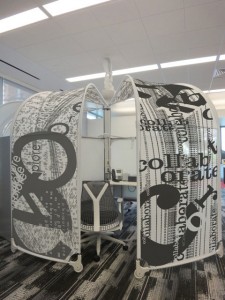 "I was just really excited because I worked so hard on [the design]," Poole said, describing her reaction to the email. Nitecki opened the ceremony with the story of the collaboration and presented each of the five students with a letter of recognition. Yoshinaga also spoke about the process that the students went through while creating the designs.
"I wanted the design to show growth through exploration and learning, so I used those words for the trunk of the design. … The branches were supposed to be the fruit of learning, which was represented by the word 'knowledge,'" Fowler said, describing his design.
For Poole, her design was inspired by a more literal concept.
"I had four words: technology, communication, books, and journals, and my theme was texture," she explained.
Poole continued, "There will be two canopies that my design will be printed on."
"It was a great experience," Yoshinaga said. "I hope that more of this kind of collaboration will happen throughout our campus in the future."
The furniture with the printed designs is not yet installed. It will take a couple weeks until their production is finished by Herman Miller.