"Aerospace defined the 20th century," James F. Albaugh, the president and CEO of Boeing Commercial Airplanes, said June 27 after receiving the 2012 Engineering Leader of the Year Award from Drexel University's College of Engineering.
The Engineering Leader of the Year Award, which was established in 2003, is awarded annually to an engineer who has exemplified excellence in his or her field.
"I was very fortunate to join the aerospace industry in the final quarter of the 20th century," Albaugh said during his acceptance speech. "It is a very exciting time to be an engineer."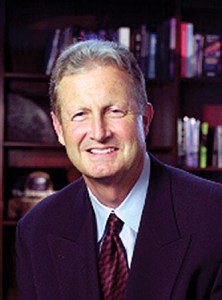 Past recipients include presidents and founders of various influential universities and companies such as the Massachusetts Institute of Technology and Lockheed Martin Corp.
Drexel graduate and astronaut Chris J. Ferguson won the award in 2009. He acted as the master of ceremonies at this year's event.
"I've learned that it's not a profession for the faint of heart. And one of the things I've learned is that you've got to have patience. You don't always get it right the first time," Albaugh said. "There really aren't any shortcuts."
Albaugh, who holds bachelor's degrees in mathematics and physics from Willamette University and a master's degree in civil engineering from Columbia University, confessed to the audience that he didn't originally want to be an engineer. As a history major in college, he received a C on his first test, which prompted him to change his major.
"Jim, thank you, and Drexel believes truly in engineering and the ability of great engineers like you to improve the quality of life for everyone," Drexel University President John A. Fry said in a speech before Albaugh was presented with his award.
According to the College of Engineering website, Albaugh works as a "designer and manufacturer of commercial passenger airplanes, with more than 12,000 jets in operation around the world. Founded in 1916, Boeing Commercial Airplanes employs 80,000 people and had $36.2 billion in revenue in 2011. Albaugh was named to this position in September 2009. He is also executive vice president of The Boeing Co."
Representatives of both the College of Engineering and Boeing Commercial Airplanes were in attendance at the event, which was held at the Four Seasons Hotel at One Logan Square in Philadelphia.
The Engineering Leader of the Year is selected "by a committee seeking an individual that demonstrates leadership and plays a key role in creating the technological solutions to solve the societal problems of the 21st century," according to the College of Engineering website.
"I think that what engineers do certainly is a very worthy cause," Albaugh said. "We get an enormous satisfaction on what we are able to achieve in solving problems."
Albaugh currently serves on the TRW Automotive board of directors, the board of trustees of Willamette University and the board of visitors of The Fu Foundation School of Engineering and Applied Science at Columbia University.