Drexel University announced Dec. 16 that it is expanding its academics with the opening of the new, interdisciplinary A.J. Drexel Institute for Energy and the Environment.
The institute, to be abbreviated "IExE," brings together faculty from nine Drexel subdivisions to study energy from scientific, economic and political perspectives. College of Engineering Dean Joseph B. Hughes has been named founding director.
The opening of the institute is an example of Drexel's traditionally holistic approach to energy research. IExE faculty have been involved with projects from polymerized ionic liquids and plasma-assisted carbon dioxide sequestration to investigations of funding sources of the climate change countermovement. This all-of-the-above strategy was underscored by President John A. Fry when he spoke in favor of a partnership with the shale drilling sector at September's Shale Insight 2013, but also warned against exploiting environmentally sensitive areas.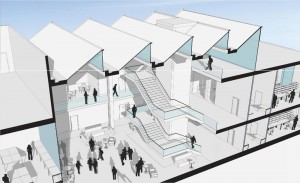 To keep the institute effective despite its broad mission, the faculty's efforts are to be focused in six research areas: Energy, Environment & Society; Energy Scenarios; Energy-Effective Design; Energy Storage Technologies; Energy Systems, Analytics and Control; and Energy Sources.
Besides research findings, the institute's work in these areas may result in the addition of new degree programs, such as energy systems engineering or energy informatics. A similar course of action was taken by the A.J. Drexel Autism Institute, established in 2012; its faculty is currently developing an applied behavior analysis graduate program for the School of Education.
While the Drexel press release states that research will begin immediately, the fledgling institute is not yet fully operational. An immediate goal is to partner with relevant corporations, non-governmental organizations and individuals in an IExE alliance group that will advise the director with a yet-to-be-recruited Scientific Advisory Board.
A national search is being conducted for a successor to Hughes. Little news has been released regarding the search, but Drexel aims for the successful candidate to take over in July 2014. According to the press release, potential directors are to have, among other qualities, "an exceptional track record of innovative and visionary leadership on energy and environmental matters" and "a dedication to cultivating leadership in others," the IExE website states.
The new director will oversee a remodeling of 3101 Market St., formerly owned by the Philadelphia Parking Authority, which will house the institute after the three-phase, multiyear development plan is complete. Boston architectural firm Payette, which has also worked for Duke and Harvard universities, will be converting the gray brick box at 3101 Market St. into a space for both academia and private enterprise.
The development fits in the ongoing implementation of Fry's Strategic Plan for Drexel: an eventual 150,000 square feet will join his Innovation Neighborhood, intended to be a lasting source of growth and corporate partnerships. The strategic plan emphasizes redevelopment of the land north of Market Street as the key to creating an "attractive and exciting front door" to Drexel University.
All told, the new Institute of Energy and the Environment represents an expansion for Drexel that builds upon its current strengths and fits into the established master plan.